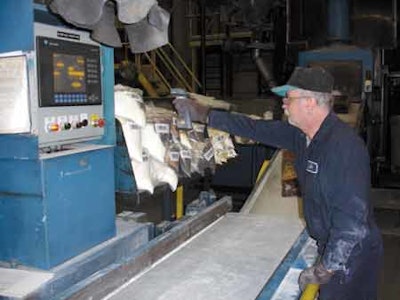 A dissolvable label applied to EVA bags helps Paulstra make ingredient confusion disappear.
Although it's said that everyone loves a mystery, that's not true of companies when the mystery causes confusion and waste.
Paulstra is a manufacturer of elastomer products that provide shock, noise, vibration control, and vibration management for automotive applications. It recently solved confusion over its "mystery bags," premeasured bags of chemicals prepared by Paulstra personnel. The bags, made of ethylene vinyl acetate (EVA), are added directly to batches during rubber preparation and processing. In the past, the bags' contents were identified using handwritten copy that was often smudged and unreadable.
Since July 2004, the bags have received an easy-to-read printed label that includes a bar code for data collection. Mystery solved, and production efficiency was raised, thanks to a complete system provided by Paragon Data Systems (http://paragondsi.com).
Paulstra operates two plants in Michigan, including one in Grand Rapids, where its rubber mixing facility is located. Because the plant produces thousands of rubber products each day, Paulstra's rubber mixing process is one of the most crucial stages on the manufacturing lines. Plant engineers deal with hundreds of rubber mixing batches every day.
In total, nearly one hundred separate chemicals are used, in powder and pellet form, including curatives and additives such as antioxidants. Paulstra mixing process engineer Sebastien Lebon informs Packaging World the number of different bagged formulations currently numbers 400.
Label accuracy crucial
"Any engineer that has ever put a wrong bag of chemicals into a mixer can tell you about the importance of proper labeling," says Lebon. "The need to label each batch 'inclusion' bag is just as important, if not more so, as ensuring that each batch contains the right ingredients."
For several years, the Paulstra plants have been preweighing the ingredients in Lomel® low-melt batch inclusion bags from J. Drasner & Co. (www.jdrasner.com). After weighing, the bags are sealed to prevent spillage and loss. Several hundred bags are filled each day.
"The Lomel bags were a big improvement over the old method of scooping from a bucket," said Lebon. "However, we struggled to find a good method for labeling the bags. The Lomel labels completed our automation of this area."
Initially, the bags were manually labeled using marker pens. "Pens did not work because the ink would often smear, and the handwriting was not always legible," according to Lebon. "And the handwriting also did not look professional. We also tried printed tags, using a thermal printer, but the paper tags could not adhere well to the bag and they would contaminate the product. We tried various methods to temporarily attach the tags, but we could not prevent the tags from becoming separated from the bags. These methods were not 100-percent reliable and unmarked bags resulted in material loss and disposal costs.
"Also, we did not have confidence that the right bags were added to the mix," Lebon emphasizes. "Once the bags dispersed, there was no way to go back and verify that the right bags were used. Operators sometimes wondered if they made a mistake, and the current systemin place proved to be tedious when trying to establish traceability."
When asked for input, J. Drasner & Co. recommended a labeling system developed by Paragon Data Systems. Paragon provided Paulstra with its Lomel Batch Labeling System, which uses labels made from the same EVA film as the Lomel bags. It allows the label to be completely dispersed, along with the bag. The bags are available in opaque or clear in different sizes. Lebon says the bag and label melt at about 175ºF, far short of the process temperatures that reach 250ºF. Typically two or three bags are added per batch, though some batches call for six bags. "The EVA content in a rubber batch of 330 pounds may be four ounces, just a drop in the ocean," Lebon says.
The Paragon system prints labels on demand with all the relevant information in both human readable and bar-code format. The system features two Zebra Technologies' (www.zebra.com) model 105SL printers, robust industrial units ideal for producing crisp and clear text and graphics on Lomel labels. Paragon helped Paulstra overcome technical difficulties it experienced when developing a system to automatically record the weight of the bags, and to ensure that the label contains accurate information.
"We worked with Paragon to design a label that met our needs," Lebon explains. "We assumed we needed a larger label, but the Paragon team was able to create a good custom solution that included all the information we needed on a two by four inch label."
At the mixing station, the software via the PC informs the operator which compounds, and the amount, that are specified for the particular mix; it also verifies the ingredients and provides a record. Paulstra uses two Intermec Technologies Corp. (www.intermec.com) Sabre 1552C handheld scanners plus a spare to collect the bar-code data and perform ingredient validation. Networked PCs are located at each workstation. In addition, Paragon supported Paulstra in the development of the software that integrates the entire system.
Plant productivity has improved now that the inventory of premeasured batch inclusion bags is tracked automatically, ensuring that the correct bags are available prior to initiating the mixing operation.
Most important, Paulstra now has a process that guarantees the integrity of each batch, with a record of the ingredients of each batch. Lebon proudly asserts, "We supply automobile manufacturers who demand quality and consistency, and they require lot and batch traceability. Our automated label system gives us, and our customers, confidence that the components we produce are always manufactured exactly according to specification.
"Paragon's dispersible labeling solution has allowed us to stand firm in our commitment to increased productivity, consideration for the environment, reduced waste, and an intent focus on producing high quality products," says Lebon.
—Rick Lingle
Companies in this article