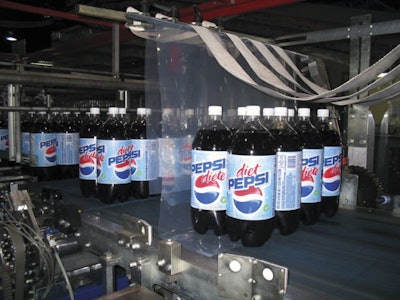 At independent Pepsi bottler Browning Harvey, the recent installation of a Dimac P-45 shrink wrapper and Descon integrated infeed conveyor has brought a dramatic improvement in operational efficiency.
"The real driver behind the switch was getting rid of the shells," says plant manager Gary Williams. The shells he refers to are the rigid plastic carriers widely used to transport PET bottles of soft drinks throughout the supply chain. According to Williams, the shells were problematic for a number of reasons. Getting them back, cleaning them, and replenishing the ones that broke or went missing were the chief difficulties. Allotting space for them in the plant was another drawback. Moreover, they used to get in the way of efficient production planning if their whereabouts or availability were ever in doubt.
All these headaches have been eliminated since the Dimac shrink wrapper and integrated conveyor were installed. A 3-mil shrink film from Bemis now unitizes all three PET bottle sizes produced at the plant: 1-L (12/bundle), 2-L (8/bundle), and 591-mL (24/bundle).
"The shrink wrapper handles all three bottle sizes," says Williams, who cites machine reliability, timely delivery, and cost as the three key elements that led him to this particular machine solution. "Our two-liter bottle, which we run at about 40 bottles per minute, is the most popular. But when we need to change to the other two sizes, it takes about two hours to make the switch."
Noting that the 8-count bundle of 2-L bottles weighs 16 kg (35 lb), Williams says he is impressed that the bottles require no support from a paperboard or corrugated pad.
"We started out with a 3.5-mil film because we were a little unsure about these heavy bundles being unsupported," he points out. "Now we're down to 3-mil and we're looking at 2.75."
Palletizing of the bundles is done pretty much the same as when the shells were in use. One change involved a few modifications of the retractable apron that forms pallet layers and drops layers on top of each other. The slip characteristics of the shrink film are considerably different than those of the hard plastic shells. So the firm removed the steel apron and replaced it with UHMWPE. Assisting in these and other integration tasks that were necessary was Integrated Packaging Machinery, the North American distributor for Dimac and Descon products.
Though improved in-plant operational efficiency is the biggest benefit gained since the shrink wrapper was installed, Williams says the consumer also benefits from the change. "We were so focused on getting free of the shells that we didn't think much about how much cleaner the bottles are when the consumer encounters them in the store," says Williams.
"To my knowledge," he continues, "we are among the few if not the only ones doing this. But I think we'll see a lot more of it in the near future."
Companies in this article