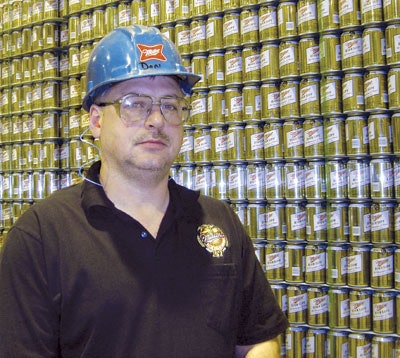 High-speed video monitoring to identify the root cause of packaging line snafus is paying big dividends at the Trenton, OH, plant of Milwaukee-based Miller Brewing. Difficulties last summer on a can line are among the issues that made the new monitoring system so appealing.
"On can line C7," says Don Stevens, packaging equipment specialist, "we reached a point where the only way to prevent cans from getting dented at the discharge of the seamer was to slow the filler down from 2000 cans per minute to 1꼀 per minute. But that cost us about four truckloads of beer every eight hours. We had all kinds of help trying to locate where the problem was, but at those speeds it's difficult to see what's going wrong.
"With the video monitoring system, it was a snap. Within 15 minutes we determined that a faulty bearing was causing the conveyor chain to jump. This caused excessive movement of the cans, which in turn caused the denting. Once the problem was fixed, we wheeled the camera back into the location and we could see right away that the conveyor movement was completely gone."
Installed last November, the high-speed video recording system in use at Miller is the 20/20 Hindsight gigE from Monitoring Technology Corp.. Its gigabit Ethernet technology permits recording speeds in excess of 2ꯠ frames/sec. Storage capabilities permit 6-hr recording times if needed. And the full-duplex continuous buffer allows a user to both record and view video footage at the same time.
Mounted and self-contained on a wheeled cart, the system can be used throughout the Miller plant. It's a matter of pointing the camera at the suspicious area. When the next jam or production flaw occurs, the video footage is scrolled back and the event is replayed in slow motion. Clarity of image, says Stevens, made the 20/20 Hindsight system stand out.
"We looked at other systems," says Stevens, "but this one not only had the clearest image, it's also easy to set up and easy to use."
Cartoning of cans and capping of bottles are two additional spots along Miller's packaging lines that have benefited from the use of the video monitoring system. On the high-speed cartoning machines, it turned out that placement of carton blanks was out of time. And on the machine that applies steel crowns to filled bottles, something was preventing crowns from flowing smoothly down their track to the crowning stations. In each case, video monitoring captured the cause of the problem and paved the way to a quick solution.
"This piece of equipment paid for itself with our first use of it on can line C7," says Stevens. "You can't make up lost production, and this technology helps us put a halt to lost production."
Companies in this article