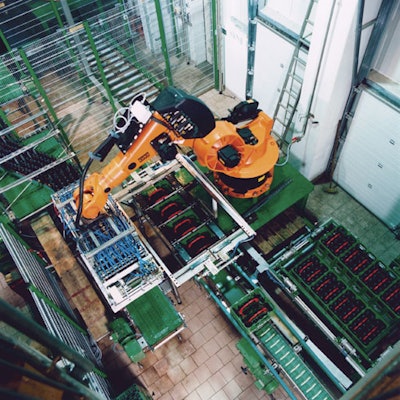 In an era when many small and medium- size German breweries are facing the possibility of being put out of business or swallowed up through consolidation with larger brewers, Pyraser sought to increase its competitive edge by revamping packaging operations.
Pyraser needed a packaging solution that would reduce cycle times and optimize operating economies and efficiencies. To achieve this result, the brewer installed two Model KR 150 packing robots from Kuka Robotics Corp. The new six-axis robots with pneumatic grippers save approximately 150-sq' of floorspace compared with the case packing and palletizing equipment it used previously.
The programmed robots can crate 30ꯠ bottles (1귔 crates containing 20 bottles per crate) per hour. While one of the KR 150s takes four crates with empty bottles from the roller conveyor and simultaneously lifts out all 80 bottles for placement on the conveyor belt, the second robot takes the same number of filled, capped bottles from the conveyor, places them in crates, and returns the filled crates to the conveyor system.
The flexibility and programmability of the KR 150s also makes them suitable for alternate applications at Pyraser. The company has plans to use the robots to automate the handling of 65-kg beer barrels, further improving plant efficiencies and reducing labor costs. —Judy Rice
Companies in this article