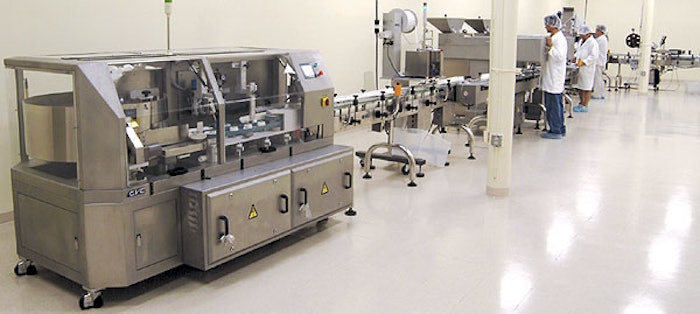 Southwood Pharmaceuticals, Inc. provides custom prepackaged medications in tablet and soft- and hard-shell capsule forms to physicians, group medical practices, and specialty clinics. To better serve its growing customer base, the contract packer recently installed three new bottling lines at its 42ꯠ-sq-ft facility in Lake Forest, CA.
Southwood enlisted the services of Art Stevenson, Art Stevenson Consulting, to assist in selecting the line machinery and overseeing the installation of the new packaging lines. Stevenson recommended CVC Technologies, Inc. as the main equipment supplier—based on the company's competitive pricing, excellent reputation, high-quality service, and ability to supply most of the major packaging line components: bottle unscramblers that orient and set the bottles upright for filling; 12-channel electronic counters/sorters/fillers with 32 in-line sensors; cotton inserters; cappers; tamper-evident banders; label applicators; and pack-off station turntables.
The three lines, housed in three separate packaging rooms, fill 75-, 120-, and 225-cc high-density polyethylene bottles with various pharmaceutical and nutraceutical products. The HDPE bottles are supplied by Paradigm Packaging, and plastic closures are supplied by Pacific Packaging Components, Inc. After filling, desiccant packets are deposited by desiccant placers from Azco Corp., who also supplies the desiccant packets. After cotton plug inserting, flexible membrane inner seals are affixed to the bottle mouths using induction sealers supplied by Pillar Technologies.
Label printing of specific product copy and identification coding is accomplished using printing equipment from Zebra Technologies. The pressure-sensitive wraparound paper labels, applied after the tamper-evident bands, incorporate 4 tear-off identification tabs that can be removed and filed for record-keeping purposes at the medical clinic or other healthcare facility.
At the pack-off stations, bottles travel on large, round turntables and are manually packed into 25-count corrugated boxes. The boxes then are handled by a shrink wrapper from Preferred Packaging Systems, Inc. that applies film wraps and routes the boxes through a shrink tunnel.
Improved performance and productivity
Packaging line consultant Art Stevenson says of CVC's involvement in the project, "I have never known a line not to depend on a full-time mechanic until now. Anything I have ever asked of CVC, they have done and done it quickly. They go back and fix whatever problem comes up. They have been absolutely amazing to work with."
Changing over the lines to accommodate different medications and bottle sizes is quickly accomplished by manually adjusting the guide rails and punching the new product memory parameters into the touch-screen control panel.
The three new lines combined operate at speeds of approximately 120ꯠ bottles per day on an 8-hour shift. The old lines delivered about 20ꯠ bottles per day.
Southwood's director of operations Grace Gonzales notes, "Not only have these new lines increased our packaging capabilities by 600%, but they also have changed the way we do business. They have decreased our labor costs, provided high levels of compliance, sped up packaging rates, and dramatically lowered our overhead costs."
For a list of suppliers mentioned in this story, see: packworld.com/go/w163
Companies in this article