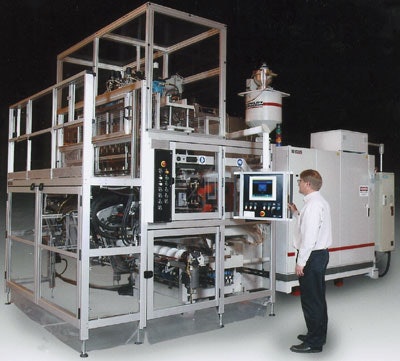 Ordinarily, a key objective behind aseptic filling is shelf stability. Because you're filling and sealing sterile product in a sterile container under sterile conditions, the package provides a one-year shelf life (typically) with no need for refrigeration or preservatives.
At Arla Foods' showcase new plant near Leeds in England, aseptic filling technology is being deployed without shelf stability as a goal. The product, called Cravendale Purefiltre, is not aseptically processed. But it undergoes a unique filtration process prior to pasteurization that removes more of the bacteria that can cause milk to sour yet lets all the nutrients and flavors pass through. By combining sterile blow molding, aseptic filling, and Purefiltre processing, Arla says it is able to offer a fresher, creamier milk that tastes better and lasts longer than conventional refrigerated milk—seven days after opening and up to 20 days unopened.
The firm is tight-lipped about most of the technical details behind the new installation, including the identity of the aseptic filling system that's used. More is known about blow molding, a through-the-wall operation that is believed to be operated by Logoplaste. That firm produces sterile high-density polyethylene bottles on a brand new system from Uniloy Milacron called the UMR2000CB reciprocating screw blow molder. Logoplaste is the first to commercialize the machine, which uses what Uniloy calls "clean blow" technology.
The blow molder combines Uniloy's proven blow molding technology with sterile blowing air and an enclosed overpressured clamp area. This makes it possible for containers to be blown with bacteria-free air and be tightly sealed in a controlled, aseptic environment. A proprietary mechanical sealing method at the end of the blowing cycle seals the container, entrapping sterile air inside the bottle until it reaches the aseptic filler.
The first two of these UMR2000CB models, built at Milacron's Batavia, OH, manufacturing center, are believed to be in operation at the Arla plant near Leeds. Each 10-cavity reciprocating-screw machine has a 90-mm extruder and a 100 HP drive system.
See the story that goes with this sidebar: Aseptic and ESL packaging keeps evolving
Companies in this article