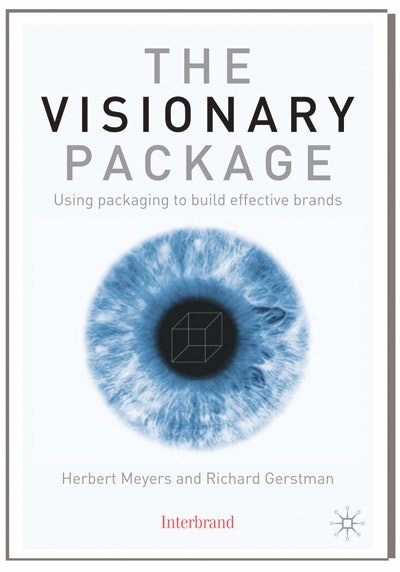 The sacred pillars of marketing long have been summed up in the four "Ps"—product, price, place, and promotion. Current thinking in marketing circles, however, adds two more Ps—positioning and packaging.
Both will increase in importance over the next decade, say Herbert Meyers and Richard Gerstman, "because we anticipate that shopping will experience revolutionary changes resulting from limitless conceptual opportunities for making the shopping environment more exciting."
The authors outline how and why in The Visionary Package, and as decades-long thought-leaders in branding and package design, both know their subject matter well. Meyers is the retired founding managing partner of Gerstman+Meyers (now Interbrand), a brand identity and design consultancy that serves Fortune 500 clients worldwide. Gerstman is chairman of Interbrand U.S. and founding managing partner of Gerstman+Meyers.
Consider the advent of single-serve yogurt cups and bottled water, or the apothecary-like shape of the Absolut Vodka bottle. "What makes these packages visionary is that, being based on solid marketing criteria and precisely targeted positioning instead of on marketers' or designers' whims or current popular trends, they have withstood the flow of time, even when modified repeatedly, to adhere to the changes in market conditions," the authors state.
Over 242 pages, Meyers and Gerstman define the dynamics of packaging design in the retail environment. They focus on the consumer, today's marketplace, its potential, and how it could change. The book also examines the impact of package design and provides insights to position the package as a more valuable marketing tool.
The Visionary Package starts by discussing the origins of packaged goods and evolves into modern-day approaches in which the package has become more than just the carrier of goods sold. It then explores the retail scenario, category-to-category differentiation, and the rise of private-label brands. Brand owners (and their suppliers) who succeed in this environment will be those who know their consumers (and their retailers) well and "keep it simple." The authors state: "Simplicity will give people the freedom to control what they do with their lives," from saving consumers time to helping retailers reduce labor costs and keeping their shelves stocked with products that consumers really want.
The marketing impact of packaging arguably has become the hottest growth area of the packaging function. This book neatly compartmentalizes and summarizes a lot of the same ground that's become popular fare at the branding and package design conferences that have sprouted like weeds over the past several years. This strength makes The Visionary Package must reading for packaging professionals who believe that packaging is a cornerstone of product development.
In a brand management community where job turnover is typically 18 months, this book holds ongoing value for legions of future marketers whose charge will be to continue growing their brands and the bottom line.
Companies in this article