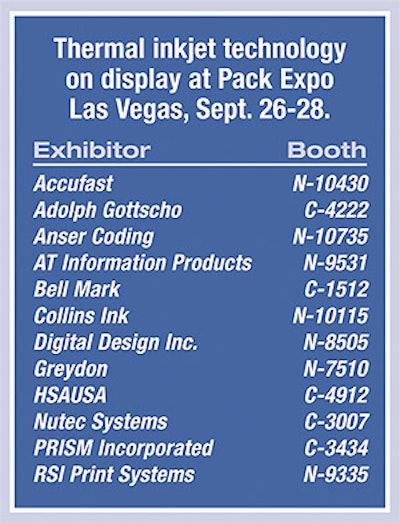 The range of applications for thermal inkjet is expanding as savvy ink suppliers are pushing ink technology. The result is that thermal inkjet applications are developing on non-porous surfaces.
In some cases the flexibility available with inks actually surpasses the range available with older systems. Just a few plusses of thermal inkjet coding:
• Quick changes on colors
• Multi-color coding options
• Reduced dry time
• Security inks
• Light solvent-based inks
Several areas where TIJ's flexibility stands out are color and quick changeovers.
Colors can vary including ink formulations that could match a brand's custom color to allow codes to harmonize with package graphics. The use of multiple print heads also allows different colors of ink to be used on the same package.
Thermal inkjet's use of "snap-in snap-out" print heads also affects color options. Instead of having to flush and clean older continuous inkjet systems an operator merely snaps in a new print head with a different color ink resulting in maximum uptime in the performance of the printer.
The skills of ink developers allow ink to be tailored to the job. Formulations accommodate different substrates size of the characters and print density. The range of substrates TIJ can accommodate includes paper-based materials such as kraft SBS and clay-coated newsback.
Perhaps nowhere else is the sophistication of inks demonstrated as in security printing where TIJ delivers up-to-date solutions. Ink technology now offers sophistication such as dual-spectrum UV inks. These inks defy simple counterfeiting approaches by requiring a UV light with a second wavelength for detection. And the technology exists to add security to the cartridges holding the inks.
Inks can also incorporate taggants so this security technique can be employed when a code is put on a package.
See the story that goes with this sidebar: Thermal inkjet— crisp codes in real world plants at affordable costs
Companies in this article