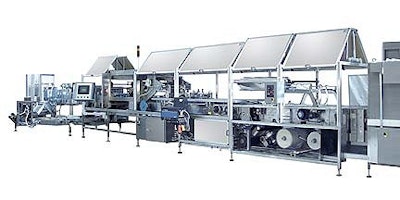 Vincent M. Lotito vice president of AriZona Beverage Co. a major producer and distributor of beverages and snacks based in Lake Success N.Y. will return to this year's PACK EXPO Las Vegas to research palletizers to further streamline his company's production process. After a fruitful trip to the last PACK EXPO Las Vegas Lotito purchased a tray packer that has increased AriZona's case packing speeds by 20 percent and reduced changeover time by 50 percent. Sponsored and produced by the Packaging Machinery Manufacturers Institute (PMMI) PACK EXPO Las Vegas 2005 will take place September 26–28 at the Las Vegas Convention Center in Las Vegas NV.
Launched in 1992 AriZona Beverage has built its success on marketing uniquely flavored drinks—including black or green teas fruit juices and coffees—in artfully designed bottles and cans. In fact for five years running AriZona beverage packaging has received Gold Awards in the London International Design Award competition. The company's products also have been honored with Beverage Packaging Global Design Awards and Clear Choice Awards presented by the Glass Packaging Institute. Over the past decade the market for AriZona's unique products has expanded rapidly. In each of the last two years the company has experienced an unprecedented 40 percent growth rate.
A High-Performance Plant
Until recently AriZona relied on co-packers to keep up with increasing demand but in August 2003 the company purchased its own 200-square-foot production facility in Maplewood N.J. In operation round-the-clock the plant produces many different types of beverages routinely running four or five flavors—often requiring package changes—in the same day.
Lotito and his director of operations Mike Putnam visited PACK EXPO Las Vegas to find a tray packer for their Maplewood plant. They were looking for equipment that would help them increase production speed and provide reliable flexible performance. Topping their criteria list was a system offering efficient changeover capability. Changeover processes on the company's existing tray packer were cumbersome creating too much downtime in the production process.
At PACK EXPO Lotito was able to research a variety of different tray packers on the market interview technical experts about their capabilities and benchmark their performance. After observing the equipment running on the show floor and speaking to a company representative Lotito purchased a Continuum 296T Tray Packer made by Standard-Knapp Inc. (Portland CT.).
"When it comes to purchasing new equipment I take a methodical approach" Lotito explains. "The range of exhibits and expertise at PACK EXPO Las Vegas really helped me to weigh the comparative advantages and make the right choice."
The packaging solution found at PACK EXPO has enabled AriZona to significantly increase case packing speeds. For 12-packs of both the 16-ounce and 20-ounce glass bottles packaging speed has increased by 20 percent with the new equipment (from 57 cases per minute). Packaging for the 12-pack of 16-ounce cans also has increased by 20 percent from 57 cpm.
A Soft Touch
Though AriZona wanted to streamline production the company also needed to protect its graphic-heavy labels during the packaging process. The Continuum Tray Packer stood out from its competitors because it can accommodate trays with high walls—up to 4.5 inches—while most other machines use trays with only 2- or 2.75-inch walls. The higher tray walls provide a shield for AriZona's distinctive bottles and cans.
In addition the tray packer's infeed and lane division technology ensures that AriZona's products move in even lanes without jamming. Its "Zero-Gap" infeed design smoothly divides products from mass flow into individual lanes utilizing geometry and frictionless rollers. This eliminates the need to break up bottlenecks with oscillators which could damage sensitive beverage labels. After products are fed into the packer a servo-driven grouper precisely meters them into the desired amount. With smoother production plant operators have to spend less time tending to jams and can be more attentive to overall efficiency.
Change Is Easy
Since AriZona's Maplewood plant produces beverages in many different sizes and packaging configurations they need to make frequent changeovers to their equipment. Before attending PACK EXPO production slowed considerably whenever adjustments needed to be made particularly to the tray packer.
"With the older equipment it was typical to have a half hour or one-hour period where you're tweaking things to maximize efficiency" Lotito explains. "Plants in general are trying to get away from that tweaking because you just can't afford that."
With the help of the 296T AriZona has reduced changeover time by 50 percent. Color-coded parts numbered change points and a user-friendly process mean that changeovers for packs of 12 14 18 and 24 bottles or cans take only about half an hour. Since they do not require tools the changeovers can be done by operators rather than mechanics—an efficient and cost-effective use of manpower. To make a changeover operators follow a step-by-step process to ensure that changes are made correctly the first time.
The Freedom to Grow
The Maplewood site is gaining a reputation within AriZona as a high-performance test plant; if when the company decides to come out with a new product the Maplewood production line will be flexible enough to run it.
Lotito will return to PACK EXPO this September to research the latest trends in palletizers to further increase the efficiency of AriZona's production lines. With innovation as its hallmark the company requires packaging equipment that can grow along with them.
"At AriZona we strive to create products that look as good as they taste. To do that we have to keep trying new things" Lotito says. "We need equipment that can keep up with our ideas and PACK EXPO Las Vegas is the place to find it."
For more information or to register for Pack Expo Las Vegas please visit pelv2005.packexpo.com/index.shtml.
Companies in this article