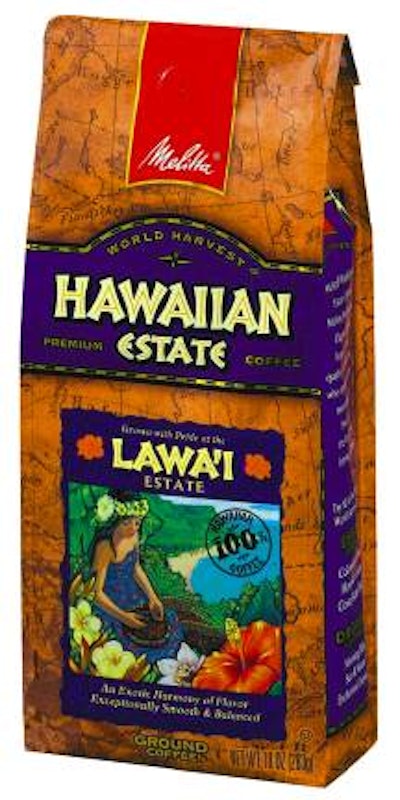 Debuting in 2004 along with three Organic varieties, World Harvest coffees in 10-oz bags garnered an American Corporate Identity 21 Award of Excellence in the Package Design category. The graphics were created by Hughes Design Group.
World Harvest encompasses two lines of three products each for Estate and Organic, which also feature an earthy tone, but in a predominately green look. The bag structure from Fres-Co System is the same for all six: a four-ply 4.25-mil lamination that includes polyethylene, an aluminum foil moisture barrier, and an outside layer of polyester that's reverse-printed gravure in seven colors.
Boosting the packs' look is Fres-Co's Matte Finish Select®, a surface-printed overlacquer applied in-register with the reverse printing to reduce glare to highlight certain areas including type fonts. For example, the background map receives the surface lacquer.
The bags are four-corner sealed on form/fill/seal equipment using rollstock. The packs, which have a one-way degassing valve in the top portion of the front panel, are said to provide a neater package by elimination of the back fin seal.
"Early indicators are very positive, hence our expansion of the line," says Chris Hillman, director of marketing. The six varieties retail for $7.99. —Rick Lingle
Companies in this article