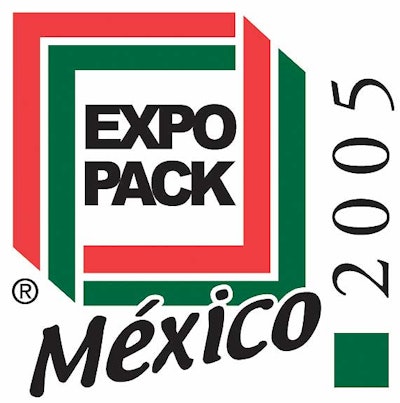 Offering exclusive access to the packaging industry in Mexico and Central America, Expo Pack Mexico is recognized internationally as the most comprehensive packaging machinery and materials tradeshow in Mexico. The show runs June 21-24 at Centro Banamex in Mexico City, Mexico.
Since 1993, the Packaging Machinery Manufacturers Institute has co-owned Expo Pack Mexico with its partner Oprex. PMMI recently purchased the 50% stake owned by Oprex and will now bring Expo Pack Mexico fully under the Pack Expo brand. Oprex will continue to provide show management services.
New for 2005, Expo Pack Mexico will host a full range of logistics service providers, particularly those related to materials handling, managing and controlling, software and IT, and storing and distribution systems.
More than 30ꯠ attendees and exhibitors from more than 18 countries will be on hand. The 700 exhibitors will cover 270ꯠ sq' of exhibition space. In their booths will be packaging and processing machinery, components, and technology, providing proven solutions for processing, packaging, storing, and distributing products.
Featured once again will be the PMMI Pavilion, sponsored by PMMI. And co-locating will be Procesa, the food and beverage processing machinery and equipment show for Mexican end-users. Processa exhibitors will display state-of-the-art equipment in the fruit and vegetable, beverage, dairy, meat/poultry/seafood, and the frozen/preserved food industries.
Show hours are 1:00 p.m. to 8:00 p.m. Monday through Thursday, 1:00 p.m. to 7:00 p.m. on Friday. For more information, including a complete list of exhibitors and on-line registration instructions, go to www.pmmi.org.
Companies in this article