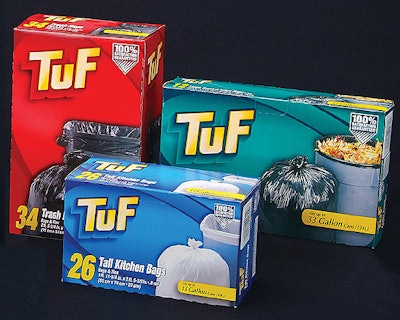 Bell was honored for its TUF private-label brand trash bag box designs for Tyco Plastics, Minneapolis.
TUF comprises a private-label line of three items that are sold exclusively at Walgreens drugstores. The line relaunched with a new look in July 2004, according to Bell's new business development manager Denise Moberly.
The box structure is 18-pt clay-coated newsback (CCNB) printed in seven colors plus aqueous coating. FTA judges singled out Bell's entry for its overall design appeal and its use of new technology to produce compositional effects previously difficult to achieve with flexography. These include gradient drop shadows and feathering, which impart a three-dimensional quality to the box graphics.
Moberley credits the expertise of prepress manager Kent Fry to push Bell's flexo technology to the limits by taking the original concept and making it dramatically more appealing.
"The award will educate many manufacturers that high-quality graphics can be achieved with flexography," Moberly says.
Winners of the FTA Design Awards competition were announced in March at the 2005 FTA Annual Forum in Orlando, FL.
Companies in this article