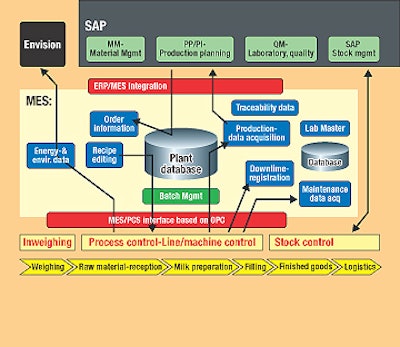 Like most forward-thinking consumer packaged goods companies these days, Arla Foods has spent considerable time and energy trying to better integrate information flow between its processing and packaging functions. But rather than stop there, the Danish dairy giant—with annual sales of US$7 billion and production facilities that stretch from Denmark and Sweden to the United Kingdom and Argentina—is going one step further. It's also integrating high-level business information with its plant-floor information systems. The end result is impressive.
"The integration of business and manufacturing has a strategic importance for Arla Foods in supporting the challenges the business is facing in terms of optimizing production performance, as well as fulfilling food safety regulatory requirements," says Arne Svendsen, production IT manager at Arla Foods. "This integration includes the transfer of detailed production schedules from our ERP system to the plant floor, as well as the seamless collection of key processing and packaging figures. With an expansive growth strategy, it is a must to integrate business and manufacturing, especially when new facilities become part of the family due to mergers and acquisitions."
A firm believer in standards, Svendsen has been influential in helping SAP "discover" the plant floor. As the leading supplier of Enterprise Resource Planning systems in the world, SAP until recently did not offer an application solution that permitted true Business-to-Manufacturing (B2M) integration. But with packaged goods companies around the world—Arla among them—seeking a better B2M integration solution, SAP recently introduced NetWeaver™ in a version that supports ISA S95 XML standards. Involving what IT experts call "wraparound" software, it turns SAP's R3 ERP product into one that is fully compatible with ISA S95 XML standards.
This greatly improves SAP's connectivity and interoperability with the outside world, specifically with the plant floor. With this initiative, SAP asked itself "How do we achieve standards-based interfaces to our systems? How do we ensure that if a production order's path from ERP to the plant floor needs to pass through Wonderware or Rockwell or Siemens components, it won't require three separate interfaces?" The answer: S95 compatibility.
"What we have learned," said SAP senior vice president Stefan Schaffer in a recent interview with Greg Gorbach of the ARC Advisory Group, "is that there are already defined standards that really fulfill the customer's needs. And these seem to be realistically implementable, so there is not a lot of value for us in creating competitive standards. It's a much better business case for all the participants to use these well-thought-through standards than to create new ones."
First implementation
The first implementation of SAP NetWeaver in its S95-based format is scheduled to unfold this May at Arla Foods' Vimmerby plant in Sweden. Here, powdered milk is packaged for industrial customers in bags ranging from 10 to 1ꯠ kg.
"With this NetWeaver implementation, we will be able to transmit production orders from the ERP down to processing and packaging machines and transmit data back up again," says Svendsen. "To achieve that degree of integration in the past, we've had to develop custom-made solutions using the very first versions of B2MML schema from the World Batch Forum. Because NetWeaver uses an open standard, ISA S95, we no longer need to come up with custom-made integration solutions. That means we can roll out a consistent, available B2M solution to multiple plants quickly and easily. We are approaching the goal of an 'off-the-shelf' solution."
Tim Sowell, vice president of product strategy at Wonderware, provides additional insight into the difference between custom-made or "point-to-point" solutions and a single, standards-based solution.
"Everybody wants the same two-way street: Production schedules down, production performance data up. And while it's possible to achieve this with point-to-point solutions, they aren't easily maintained and they aren't very scaleable. Suppose Arla acquires another company and Arne Svendsen needs to roll out his custom-made B2M integration solution to that company's multiple sites? Without a single standardized integration scheme, he'll struggle.
"Another difficulty where point-to-point solutions are implemented is the matter of upgrades. If the Wonderwares or Rockwells of the world upgrade any of their application software that resides between ERP and the plant floor, the interfaces in a custom-made integration scheme stand a good chance of breaking down. But if the interfaces are all built on a standard like S95, then it's clearly the responsibility of the Wonderwares and the Rockwells before they release an upgrade to test those interfaces to guard against a breakdown. Standards make such testing possible."
Benefits gained at Arla's newly integrated Vimmerby plant will include reduced man-hours, the ensured integrity of information flow both down from the ERP system and back up from the plant floor, and an increased capacity to meet marketplace needs quickly.
"Production information from ERP concerning package size, number of packs in the batch, label formats, and date and lot coding used to be accessed by line personnel at an HMI screen," explains Arla's Svendsen. "They would then reenter the data at the HMI screen on the packaging machine. Now that information will be transmitted directly and automatically from the ERP to the packaging machine. It not only reduces time spent by the operator, it reduces the chance for errors during order reentry."
Focus on OEE
Throughout the 60 or so manufacturing sites that Arla operates, plant intelligence systems from Wonderware are expected to pay big dividends. DT Analyst, for example, should help improve Overall Equipment Efficiency (OEE), says Arla production manager Eric Veslov.
OEE is built on the assumption that the overall efficiency of equipment will always be governed by the cumulative impact of three factors: equipment availability, equipment performance rate, and quality of goods produced. DT Analyst is an out-of-the-box reporting system that delivers a simple OEE solution that will help Arla drive machine efficiency improvements on the plant floor and report back through the organization—all the way to Arla's corporate headquarters.
"Using DT Analyst and the OEE concept, we expect to improve competitiveness and utilization of machinery," Veslov says. "We'll use it for continuous improvement of efficiency including improving uptimes, reducing downtimes, and expanding employee involvement in making such improvements possible."
Production IT manager Svendsen is another believer in the benefits that can be achieved through DT Analyst. In the next six months he'll oversee its implementation across Arla's far-flung operations, beginning in the plants where fluid milk is processed and packaged.
"Those plants may have as many as 15 packaging lines, and each line has multiple pieces of equipment," says Svendsen. "DT Analyst will help us measure machine efficiencies with a common ruler across multiple sites. We'll be able to benchmark more effectively because the same KPI [Key Performance Indicators] calculation model will be applied across all sites. DT Analyst is a good tool for this kind of calculating and reporting. It's also very good at compiling data from a wide variety of packaging machinery. We have old and new controls systems spread across all these lines, and it's not that easy to find data in a wide variety of PLCs and machine controls systems. DT Analyst is good at doing this."
As for OEE, Svendsen sees it as a fundamental metric in his efforts to bring corporate-wide integration and benchmarking to Arla.
"Not only do we want to calculate OEE, we want it plainly visible in real time to everybody, from plant management to operators to maintenance people," says Svendsen. "We want to use OEE figures when we negotiate with packaging machinery OEMs prior to a capital investment, so that we and they agree that certain KPIs have to be met.
"Like any manufacturer, we've always tracked packaging machinery performance. But it hasn't been done in a coordinated or automated fashion. We want automated data collection and we want it done according to corporate standards, so that every machinery OEM understands that we want a data plot on top of their machine control so we can go to an OPC server and pull out OEE data whenever we like."
Svendsen also aims to involve Arla in the work being done jointly by the World Batch Forum and OMAC Packaging Workgroup. Called Make2Pack, this group seeks ways of more tightly integrating processing and packaging. A key initiative is to bring the benefits of ISA S88 standards now widespread in processing over to the packaging function.
"We've used S88 modeling in batch processing for years," says Svendsen. "Now are we trying to think of packaging lines in terms of S88 standards. That's where PackML and the OMAC Packaging Workgroup and Make2Pack are headed. The idea is to view a packaging machine as an S88 unit, which would lead to a better interface one machine to the next. Such an approach would allow us to begin exchanging recipe information and status information among packaging machines." Needless to say, it would also lead to much tighter process-to-package integration.
Arla's ultimate goal as it drives towards B2M integration is to knit nearly 18ꯠ employees in some sixty milk, cheese, and milk powder plants around the world into a single, focused entity. That's why they call it the "One Arla" strategy.
"It's the kind of vertical integration that makes the supply chain work best," says Svendsen.
See sidebar to this article: Improved track-and-trace capability
Companies in this article