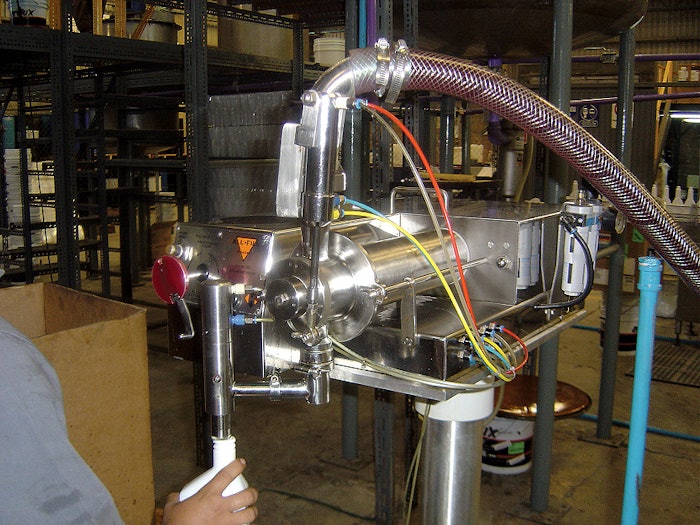 Headquartered in the Mexican city of Queretaro, Artlux, S.A. de C.V. is a manufacturer and packager of a broad range of automotive cleaning and maintenance products—including car exterior cleaners, waxes, polishes, vinyl protectants, fabric treatments, air-conditioning sanitizers, gas additives, oil conditioners, and brake lubricants. Artlux uses 12-oz and 16-oz plastic and metal containers to package most of its products and 1-oz aluminum containers for some others. The company supplies its products to new car dealerships and automobile manufacturers.
The great diversity of products with their major differences in viscosity and related surface tension presents challenges for the company's filling operations. So Artlux needs versatile filling equipment that can adjust to the products being run on any given packaging shift and can be easily changed over to accommodate the full product line. To meet these needs, Artlux has selected Model 305 and 205 semi-automatic, single-nozzle piston fillers from All-Fill.
Pablo Martinez, owner of Artlux, says: "The All-Fill 305 is the best piston filler I have seen. It can efficiently handle any kind of liquid-low, medium, or high viscosity. We can easily switch from filling wax or polish to a vinyl protectant or a windshield washing solution to an engine-oil conditioner without making any major adjustments to the filler. All we need to do is flush the machine and adjust the filling volume."
Martinez adds, "The 205 is equally versatile in terms of handling different product viscosities. The only difference is that we use the 205 to fill smaller containers. We haven't found a product these fillers can't handle. And they are basically maintenance-free."
The filling speeds Artlux is achieving vary, depending on the product properties and container size. But the company is well satisfied with overall filling speeds and accuracies. As an example, 12-oz containers of injector cleaner are being filled into polyvinyl chloride bottles at rates of 12 bpm with fill accuracy of ±1%.
In addition to the All-Fill 305 and 205 piston fillers, Artlux has installed an induction sealing machine from Pillar Technologies and two spindle cappers, one from SureKap. "The SureKap capper is impressive for its accuracy, and it can work with any kind of standard cap," says Martinez. "The other spindle capper," Martinez notes, "has a ways to go."
Artlux is considering adding an automatic, four-nozzle All-Fill Model 1545 piston filler, which would be dedicated mainly to high-speed filling of gas additive products. Martinez notes, "We haven't bought that machine yet because we first had to invest in a new automatic aerosol product filling line. It was just a matter of setting plant operation priorities.
"We already have one semi-automatic and one fully automatic aerosol filling line, both from Packaging Technologies of Davenport, IA. We're now getting a second automatic filling line from them. We expect we will be ordering the All-Fill 1545 before mid-2005. We have found that the All-Fill machines, in addition to their versatility, are extremely user-friendly. Our technicians adapt well to their operation."
Companies in this article