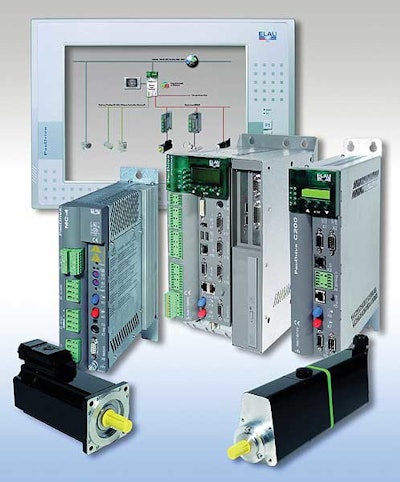 Armed with Elau's PacDrive servo controls, Capmatic's Flowstar® in-line piston filler provides packagers with flexibility, speed, and accuracy, primarily for filling liquids and cremes in pharmaceutical, cosmetics, and personal care applications.
Capmatic introduced Flowstar last year. Uniquely versatile, it allows changeover from volumetric piston filling to mass flow metering because the filling nozzles are mounted on docking stations that are rolled in or out depending on the product requirements. The Elau servos, controlled by an Elau PacDrive controller, are integrated in the volumetric piston filler docking station. Capmatic selected Elau based on previous experience with the controls provider.
"The biggest advantage of using the Elau servo control is that [it permits] 'profile' filling," says Michel Mosseau, director of sales for Capmatic. By profile, he's referring to the shape of the container to be filled. With a tapered honey container, for example, the Flowstar could fill at a faster velocity "where it's wider at the bottom," then slow down the fill as the container narrows towards its top.
"With the Elau controls," he says, "we can program in various fill velocities" based on where the piston is in its stroke. "So if you have an eight-inch stroke to fill a particular bottle, four inches into the stroke you can slow down to a different velocity for the next inch, then finish off the rest of the fill at a different speed."
According to Elau, the PacDrive servos control two axes of motion. One is the diving of the bottom-up fill nozzles. The other is the actuation of the pistons. Capmatic's Mosseau says the Flowstar can operate at speeds from 20 to 150 containers/min. The machine accommodates as many as 12 heads. It works with bottles, jars, and vials, with different piston sizes available for different fill volumes, in containers standing between 1" to 16" high.
The easy-to-change and clean system uses a Good Manufacturing Practices design that includes sanitary piston pumps, autoclaveable piston design, pharmaceutical rounded threads, and tri-clamp connectors. The servo controls allow Flowstar users to program job recipes into the machine rather than dealing with change parts.
Another benefit for packagers is the machine's fill accuracy of ±0.2%, due to the precision and repeatability of the servo feedback and responsive control.
Mosseau says that potential Flowstar buyers notice its servo control technology, partly because Elau has done a good job of informing customers about it.
"There were a few customers at the Pack Expo trade show in Chicago who did mention their recognition of the Elau controls," says Mosseau. "We've used Elau servos on the Flowstar since it first came out. It's our preferred servo platform."
Companies in this article