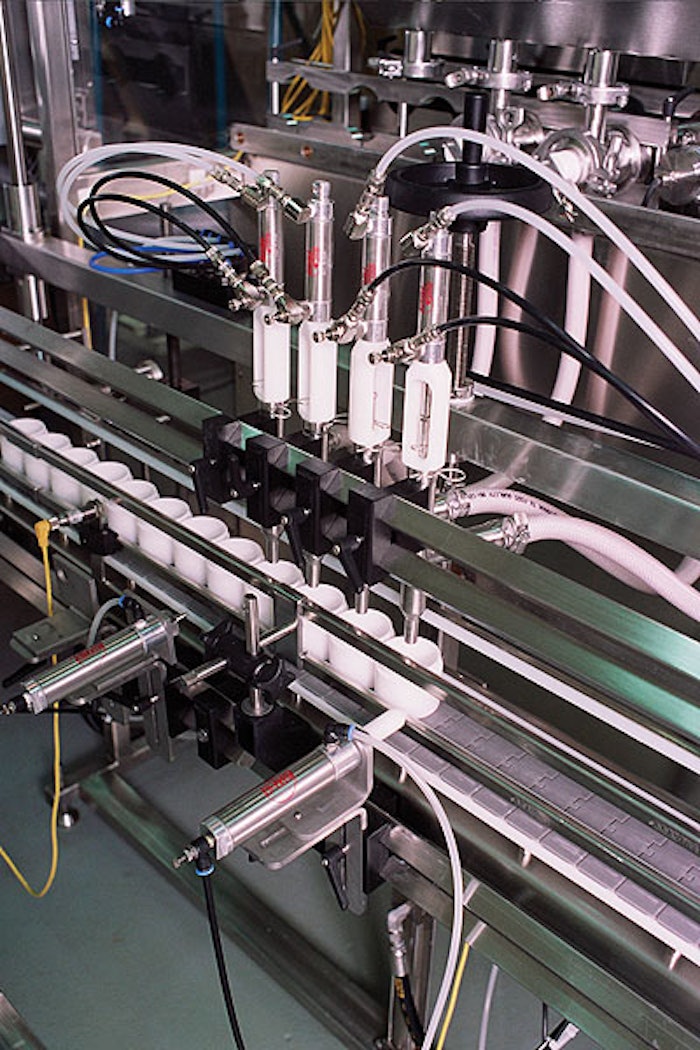 Providing manufacturing and packaging outsourcing services for its partners in the global pharmaceutical industry is the mission of Contract Pharmaceuticals Ltd. Last November, Mississauga, Ontario, Canada-based CPL improved its ability to meet that goal by developing a filling line built around a new 10-head, in-line piston filler from REB.
CPL produces liquids, creams, and ointments, primarily for sale in the United States and Canada. Its new line replaced an older one that filled only wide-mouth jars in sizes from 2 oz to 16 oz, at speeds typically in the 30-40/min range. The new line with the REB filler accommodates those jars, plus bottles holding 4 oz to 16 oz of product. The filler is capable of 130 bpm speeds, though rates vary based on product specifications and package type.
The line combines both new equipment and older machinery from a previous line. CPL runs 14 packaging lines at its 140ꯠ sq' facility. These lines provide the company with the necessary flexibility to handle specific package types or products.
Filling process
The new line begins with a bottle unscrambler that had been used on another line. It inverts bottles and is equipped with a unit that blows bottles with purified air before depositing them right-side-up onto a conveyor that carries them to the filler.
"The filler has 10 nozzles, but we don't always run it with 10," notes John Ross, vice president of business development and customer service at CPL. "In our business we have to be flexible, so we might run the machine with four or six nozzles, depending on the product, run size, and the speed of the equipment downstream.
"We may want to run at 50 to 60 bottles a minute, so we control the filler output to run at the same speed as the entire line." To do that, CPL removes the unneeded fill heads from the machine.
The filler is designed to accommodate either a timing screw or gating fingers to time containers into and out of the filler. CPL uses the gating fingers. Once containers are conveyed in place under the nozzles, the nozzles dive into the containers and rise back up after the fill. The fill stroke is adjusted through an Allen-Bradley PLC from Rockwell Automation. Each piston has a mechanical "fine" adjustment, thereby providing volume accuracy greater than CPL's previous filler.
Benefits pay off
After filling, bottles are conveyed to the capper, which was used on the previous line. Ross expects the company to upgrade this single-head machine this fall. No tamper-evident device is currently applied to these containers. After capping, bottles or jars are conveyed to a new double-head labeler from D.L.-Tech.
"The labeler uses two heads that each apply a pressure-sensitive label," says Ross. "One is a front label, one a back. They're applied onto oblong or rectangular bottles." For round containers, the labeler is equipped with what D.L.-Tech refers to as a prism roller to apply wraparound p-s labels.
Labeled containers are automatically bundled in film in packs of six and sealed on a sleeve wrapper manufactured by RBS Equipment Designs Ltd. CPL purchased the machine through distributor Shrink Film Systems. From this machine, bundles are conveyed through a shrink tunnel before operators put two bundles into a case. That's followed by manual palletizing and stretch-wrapping functions. Orders filled on this line are shipped to the United States and Canada.
The new filler has added speed, flexibility, and more reliable performance compared to that of the previous filling line. But Ross points out that the machine and new line also provide something of a showpiece for visitors. "We give a lot of tours to current and prospective clients, and this line exudes quality and speed. A lot of our original business was with lower-volume, lower-speed applications. This piece of equipment is more in line with medium- to high-speed applications and volumes."
Gaining additional business on the new line is a key goal for CPL. Ross says, "Right now we're only utilizing the machine about 20 percent of the time. With two main customers, I see these as the first of several opportunities." The good news for CPL is that even though the machine has significant available capacity, long-term contracts with two customers justifies the investment in the filler.
"We've been quite pleased with the REB filler," says Keith Bradley, CPL's technical manager, packaging. "One of the strengths we've discovered about REB is its mechanical support. Once you've acquired a piece of equipment such as this, support is one of the biggest keys. The company's technicians have worked here on our machine and are knowledgeable and helpful. The equipment is reliable. We've had no issues with this filler at all," Bradley says.
Companies in this article