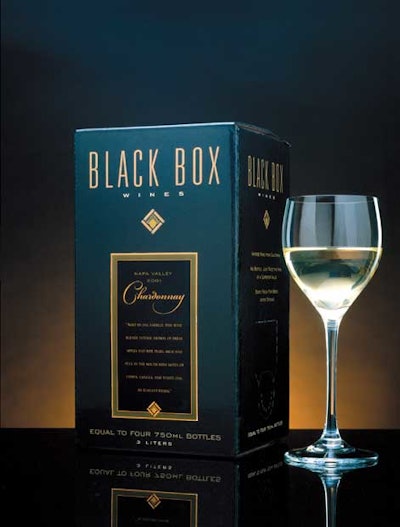 Last year Black Box Wines of Walnut Creek, CA, introduced varietals in 3-L bag-in-box packaging that it calls America's first super-premium boxed wine.
"Our goal is to help bring fine wine into mainstream America by making quality wine affordable and convenient," says Black Box founder Ryan Sproule. "High-end boxed wine has been popular in Europe and Australia for years.
"We are challenging the wine industry and changing the way Americans feel about boxed wine. We offer regular drinkers a huge savings on their weekly bill." A Napa Valley Chardonnay that debuted in January 2003 was followed in October by a Merlot and, in January 2004, by a Cabernet Savignon and a second Chardonnay, all in the 3-L B-I-B.
The bag and integrated fitment are from Scholle, the box from Color-Box. The 3-L B-I-B holds the equivalent of four 750-mL bottles of wine. The suggested retail price is $25, or about $6.25 per bottle.
"If bottled, the wine would retail for about twice that price," says Sproule. "Our savings on bottles, shipping, and storage allow for a very nice price break that we pass along to consumers." A pallet load of the boxed wine holds 80% more wine than if palletized in bottles and is less than two-thirds the weight, according to Sproule.
The boxed wines have been sold through independent retailers and restaurants, but Sproule was expecting to make inroads starting in February with "big chains" including club stores.
Freshness and oxidation
Another B-I-B advantage is in maintaining freshness longer after opening. The vacuum-sealed bag inside the box prevents oxidation, which usually degrades a recorked bottled wine a few days after opening.
"Even after the box is opened, there is no new oxygen introduced into the package," Sproule says, pointing out that oxidation is especially noticeable in a premium wine. "The wine will stay fresh up to four weeks after opening as the bag collapses." He says that's a big selling point, especially with single professional women who enjoy wine, but have been reluctant to open a bottle. Unopened, the product shelf life is nine months, he adds.
Scholle's DuraShield™ 45 bag, a 4.1-mil bag of polyethylene/nylon/5-layer coextrusion with ethylene vinyl alcohol barrier layer, is provided with a Scholle FlexTap™ fitment.
The four-piece FlexTap, with a red push-button dispenser and 3?8'' orifice, is supplied partially seated inside a 11?4''-dia PE ring welded to the bag. With a black polypropylene body and push-button molded of a high-barrier thermoplastic resin, the tap acts as a "dust cover" over the welded ring opening. The tap is accessed through the bottom side of the box, which has a perforated cutout. It has a small tamper-evident foil-laminate seal over the dispenser opening.
The products' success caught the attention of a larger competitor, Pacific Wine Partners. Starting in August 2003, Sproule licensed the products to PWP, which does the contract packaging and handles the products' distribution, sales, and marketing.
It is filled at PWP's Gonzales, CA, plant, on two leased Scholle AF-9 fillers. Each semi-automatic machine fills five bags/min and nitrogen-purges the bags of excess oxygen. The AF-9 lifts the partially seated tap, fills through the welded PE ring, then locks the tap fully into place at the end of the filling cycle. Plant personnel then manually insert the filled bags into the boxes.
The box is E-flute corrugated with litho-laminated graphics—printed in six colors plus varnish—created by Cameron Design. Sproule says there were two key design goals:
1. The box had to look different in shape and appearance.
2. The box graphics had to exude quality, but not appear pretentious.
Label mimicry
The design includes what appears to be a printed label. Initially, it really was an applied label. Sproule felt that this was the most effective way to underscore that the wine was as good as, if not better, than bottle wine. With the higher volumes, Black Box has moved to a more cost-effective printing technique that makes it look as if a label had been applied. "It has a different spot matte varnish applied over that area that makes it look like a [pressure-sensitive] label," says Sproule. "The effect is so real you have to scratch at it to see that it's printed, not applied."
The box's shape is not just a shrunk down version of the more popular 5-L B-I-B. Sproule says the 5''x5''x91?2'' box's "tower" shape is unique among the other B-I-B wines. "Every other bag-in-box wine has a dictionary shape," says Sproule. "I thought this was a more attractive shape."
Sproule selected the Black Box Wines name to make it easy for consumers to remember and to directly connect the package with the branding.
Sales indicate the product and packaging have connected with consumers. "The results have been great," Sproule says. "Consumers have been a lot more accepting of bag-in-box wine than some in the industry would have thought."
Companies in this article
Videos from Universal Labeling Systems, Inc.