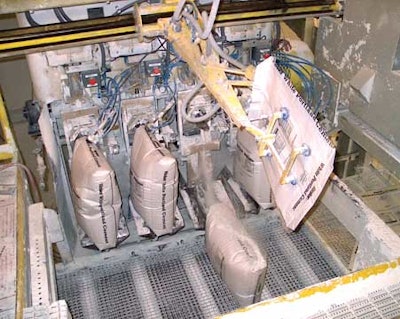 Rinker Material Corp. is one of the largest producers of bagged cement, ready-mix concrete, and concrete block in the United States. When the firm was looking to increase the productivity of its Port Everglades, FL, terminal, management turned to Thompson Scale for the solution.
The improvements Rinker sought in filling its powdery products into multiwall, valve-style bags required three key additions: an in-line checkweigher, data collection software, and a packer upgrade. All three were implemented within the past 12 months, with the checkweigher coming first.
"We were using manual labor to check bag weights every 30 minutes," says terminal manager Juan Alvarez. "This meant stopping bag production while someone pulled a bag and put it on a scale. Not only did this hurt productivity, it was hard on our workers, too."
The small amount of space available in Rinker's existing conveyor line made installation of a checkweigher a real challenge. Normally, heavy-duty checkweighers require about 4' of linear space. Rinker had only 3' to spare. Also required was a product rejector powerful enough to remove off-spec bags from the production line, yet compact enough to fit within the same space.
Thompson Scale met this challenge by designing a Model 4693 heavy-duty checkweigher with a space-saving reject ram. To minimize the machine's overall footprint, the pneumatic reject ram is built onto a support isolated from the scale, yet its reject pusher plate—suspended from an oversized rodless cylinder—is situated directly at the discharge end of the scale. The pusher plate is capable of rejecting an off-spec bag, weighing about 90 lb, and returning to the home position before the next bag enters the scale.
"The main improvement since installing the checkweigher is the increase in bags per man-hour," says Alvarez. "We no longer have to stop the operation to weigh a bag. Also important is that employees no longer have to lift bags to weigh them. And if a bag needs to be rejected, the checkweigher pushes it off automatically without someone having to handle it."
On top of all of these benefits, Rinker now knows that every one of its bags is being checked for weight instead of just one bag every 30 minutes.
Real-time data acquisition
To assist management in making informed business decisions and to optimize bag weights with the greatest possible consistency, Rinker wanted online, real-time data collection to analyze weights and generate reports. Unfortunately, the management office is located in a different building than the packing warehouse. To complicate matters, the road in between the two buildings is a heavy traffic area for semitractor trailer trucks. Any cables from the packing line to the management office would have to have been hung high overhead or dug into the ground, which would have been expensive.
Telemetry Solutions, a Thompson Scale subsidiary, provided a solution by installing StatPak-PC real-time data collection and reporting software. To bypass any need for overhead or underground cables, Telemetry Solutions set up a wireless modem to transmit the real-time data from the plant floor to the management office across the street. System users—from line operators, to production supervisors, to corporate managers—can easily view production data on a PC, which permits them to adjust production to optimal levels in real time.
"Line performance data is available instantly," says Alvarez. "I don't have to calculate it from information written down on paper. It even helps us with packaging materials purchasing, because it provides such a clear and accessible summary of the number of bags that have been filled."
Fixing the filler
The final piece of the productivity improvement puzzle was an upgrade on the 35-year-old St. Regis 150 four-spout counterbalance filling machine. Why upgrade rather than replace? Because a similar upgrade was executed at Rinker's Miami plant. "That equipment runs so well it's almost maintenance-free," says Alvarez. "It made our decision here a pretty easy one."
Thompson Scale modernized the four-spout filler by giving each bag-filling platform an electronic load cell tied into a proprietary computer that controls all aspects of the filler. One of these computers controls two of the filler's four spouts and a second controls the other two spouts. A third Thompson Scale computer controller is dedicated to the checkweigher.
Assisting on the filler upgrade was Choice Bagging Equipment, which focused on improvements in a number of mechanical parts, chiefly in the product cut-off assembly and the automatic bag placer. Choice Bagging also handled the start-up of the upgraded filler.
Before the upgrade, says Alvarez, it took 12 to 15 sec to fill a multiwall valve bag with 94 lb of cement. Now that's been shaved to 8 or 9 sec. Accuracy is improved, too, thanks not only to the switch to an electronic load cell but also to the data collection system.
"We track and monitor production through the data gained from the StatPak-PC system," says Alvarez. "We can analyze such things as bags per minute, total weight, and weight variances. It's a big help in maintaining constant quality and a consistent bag weight."
Alvarez says accuracy before the upgrade was plus or minus 2 lb. Now it's plus or minus 1?2 lb.
"Another bonus is that because the filler is automated, a single person can now run the bagging operation," says Alvarez. "It used to take two or three people to manage it."
One final benefit to the improvements in the product cut-off assembly is less product spillage. This reduces dust and simplifies maintenance in the area.
When asked how long it might take to reach a return on investment and justify the expenditures made, Alvarez had this to say. "Our observation shows an increase in production and a sharp decrease in labor costs and maintenance. We believe we'll see a return on our investment in a relatively short time." —PR
Companies in this article