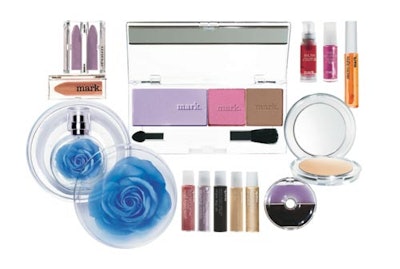 Packaging is helping 117-year-old Avon Products reach young women, whom the company calls the "daughters of Avon." Avon launched the 250-plus-item "mark." line last August. With annual sales of nearly $6 billion, New York-based Avon is the largest direct-selling company in the world.
"This is a major launch in a tight time frame," says vice-president of product development Tina Leeds. The products cover a range of categories, including accessories, skin care, bath and body, and fragrances. Pricing for the line ranges from $3 to $25 per unit.
These aren't your mom's cosmetics, and Avon called on packaging to play a key role, especially in the cosmetics arena, where cookie cutter doesn't cut it.
"Packaging plays a very significant role," says Leeds. "First and foremost, it shows off the product. It's very inviting for women to look at these packages, to want the product, and to feel that the package is something special and unique. The packages feel great and fit very nicely in the hand or a jean pocket. They are compact, clear, modern, and fun—the products have a whimsical attitude and they are pretty."
The graphics design was handled by Berard & Associates. Although every product is unique even within product lines, several major packaging themes cross the varied products to help hold the mark. concept together, according to Leeds.
Two of the most prominent are "compact" and "clear." The latter is achieved through a prominent use of transparent polymers, especially styrene-acrylonitrile, which permits product visibility through the primary package.
"SAN packages are very modern looking, and the material also has a nice feel in the hands," observes Leeds.
Personalization—allowing consumers to adapt the product to their own preferences—is another key attribute reflected in the packaging.
Three packages in particular exemplify all these concepts: Glass Slicker, Hook Ups, and Coffee Bar.
A Cinderella story
Designed with fanciful details, the Glass Slicker (A) line exemplifies the line's whimsical bent through packaging, Leeds says.
A play on the Cinderella theme, the Glass Slicker is a sheer lip shine in 15 shades housed in a crystal-clear prismatic "shoe box" injection molded of SAN by HCT Packaging. It opens booklike and closes using a small friction-fitting tab molded into the edge. The 2"x3/4"x3/4" hinged shoe box has the mark. logo screen-printed on the top; a tiny pressure-sensitive label is affixed to the bottom. The shoebox contains a lip gloss in each of the two compartments.
"The package shows the product color perfectly, so consumers don't have to open anything to double-check the color when they look in their purse," Leeds remarks.
The products also offer plenty of tongue-in-cheek playfulness. For instance, the glass slicker's carton copy states: "slip it on."
A packaging hook
Leeds calls Hook Ups (B)—a first-of-its-kind, interchangeable, dual-ended unit—one of mark.'s "hero" products. She says that many other products are dual-ended, but fixed—those packages are not interchangeable as Hook Ups are.
"For those other products, consumers purchase a specific combination thinking they'll like both," she explains. "But then they're stuck with those two combinations. With Hook Ups, consumers can create their own lineup to personalize and customize. We've combined a trend along with a very interesting product and way of packaging." The different lashes, liner, concealer, and eyeliner variations allow more than 500 Hook Ups combinations.
The 2.5-mL vials are blow molded by Techpack-CMI of natural polypropylene or clear or dark brown PET depending on the product. Techpack-CMI provides nine different vials to Avon, all screen-printed in white. Later this year, when an exclusivity agreement with Avon expires, the vials will be offered by Techpack-CMI as a stock item.
The vials contain a stem cap that's injection-molded of acetal resin. Typically, a stem and cap comprise two different pieces, but for Hook Ups the stem and cap are one-piece, hence the name "stem cap," Leeds says.
Because of the packages' end-to-end connection, the connector and stem caps had to have the proper fit, neither too loose nor too tight. Techpack-CMI was required to have an especially tight tolerance on the finish.
The 1/2" dia x 1 1/4" long PP connector, also screen-printed in one color, is dark brown in color. It is molded with an interior wall in the center so that the two components can be pushed in only so far. Technipack-CMI supplies the connectors individually bagged, which mark. then provides to customers free with the purchase of two Hook Up products.
Trendy personalization
Another product that taps a hot trend is Coffee Bar (C). A small, donut-shaped, hinged compact injection molded by HCT Packaging offers two compartments of lip glosses in the bottom section. The clear top, which snaps closed, is screen-printed with the mark.logo. There are five varieties in the line, each with a different color coffee flavor.
According to Leeds, the product plays off the popularity of coffees and coffee drinks, and Starbucks and other coffee cafes where people hang out.
"With so many choices, it has become complicated to order a cup of coffee," offers Leeds. "We've taken that love of coffee and incorporated it into a lip product."
The products also exhibit no small amount of whimsy, done through "messaging" to produce what Leeds calls "interaction." One example is a cartoned mattifier. The copy printed on the carton flaps states "oils gone" as a product-appropriate wordplay on "all's gone."
For these products and a number of others, the 18-pt SBS cartons are supplied by Arko Paper Products. The surface is offset-printed with two passes of white and one of dark brown plus an aqueous varnish. The uncoated inner surface is printed one color.
Despite the scope of the launch, Leeds says that there was no revamping of Avon's production lines. In one instance, the packaging was modified specifically for production reasons. Cartons for Hook Up have a divider inside because of an equipment limitation in Avon's manufacturing plant. "The carton had to be oversized to automatically run on our cartoning equipment, therefore the divider was added to help hold the product in place," explains Leeds.
Will mark. products help ring up additional sales for the cosmetics marketer?
"The reaction is fabulous," says Leeds. "People are amazed that we were able to deliver products and packaging that represent this attitude and youthful-minded consumer so well."
Companies in this article