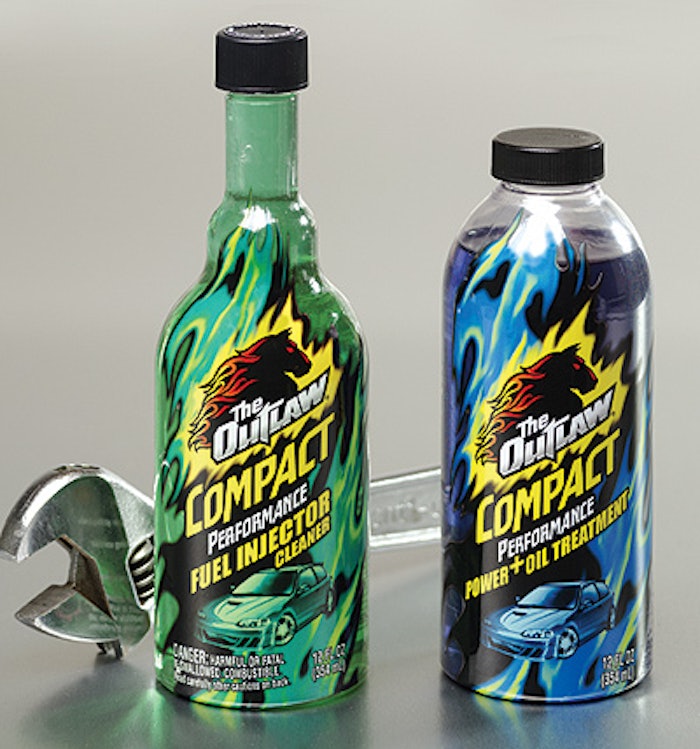 The firm's 12-oz fuel injector cleaner led the way this summer. Like the eight or so other products in the Outlaw line, the injector cleaner used to be sold in litho-printed aluminum bottles. According to Michael Howe, manager of product development for Pennzoil-Quaker State, these bottles had to be ordered and inventoried in advance, a task described by Howe as time-consuming, laborious, and costly. By switching to a clear plastic bottle decorated by a shrink-sleeve label, the firm has not only reduced the materials cost of the package but also shortened delivery lead times and simplified inventory. The benefits already gained are significant, says Howe. But as additional Outlaw products morph into the new package, the savings will be dramatic and the simplification in inventory most welcome, he says.
"It's significantly cheaper to buy a single unprinted bottle and label it for multiple products," Howe explains, though he chooses not to quantify the savings.
Elsewhere in the line of Outlaw products, another switch to sleeve labels has occurred. Outlaw power and oil treament was already in a PVC container at the time the firm made the aluminum-to-PVC switch for its fuel injection cleaner. But the PVC bottle was being decorated with a glue-applied label. That label has now been replaced by a full-body shrink-sleeve label "for better continuity across the Outlaw line," says Howe.
All sleeve labels used on the Outlaw line are supplied by SleeveCo. They're gravure-printed in eight colors and are applied by Easy Contract Labeling, a contract labeler. Because the Outlaw line includes long-neck bottles, the labels are made of PETG (glycol-modified PET), a material whose high shrink capabilities makes it conform more effectively to the bottle's sidewalls. Plastic Bottle Corp. extrusion blows the PVC bottles.
Companies in this article