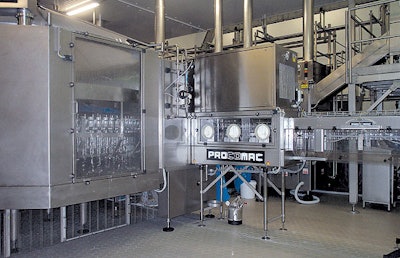 Aseptic filling traditionally produces a package that can be stored, shipped, and merchandised at ambient temperatures. The savings gained by not having to refrigerate the package often helps justify the high capital cost of an aseptic system in the first place.
But at Tropicana Europe's new plant in Zeebrugge, Belgium, PET bottles filled aseptically in 330- and 250-mL sizes on a new Procomac system are kept refrigerated until they're purchased. Why? Largely because Tropicana, a division of Pepsi Beverage Intl., is close to fanatical about quality.
"In theory, it's overkill to fill aseptically and then refrigerate," admits Steve Andrews, Tropicana's European packaging manager. Like many producers of extended shelf-life beverages sold refrigerated in single-serve bottles, Tropicana could forego aseptic filling and rely on less complex and less costly ultraclean technology instead. "But we're committed to ensuring that consumers get the best possible product," says Andrews, "and the use of an aseptic bottling system combined with refrigeration helps us do that. It raises quality to a whole different level."
Meeting consumer expectations also has a lot to do with the firm's decision to refrigerate containers that technically don't require refrigeration.
"They expect to see orange juice in the refrigerated case," says Andrews. "The chilled cabinet portrays freshness."
The bottles are sold as singles in supermarkets, convenience stores, and gas stations in much of Europe. Shelf life is 62 days in the refrigerated chain.
And what does all this passion for perfection cost? Factoring in the cost of such things as aseptic sterilizing solution and time spent sterilizing, Andrews estimates that it might cost 30% less to fill in an ultraclean mode compared to aseptic. With ultraclean rather than aseptic technology, he notes, "we could have delivered product that is perfectly satisfactory. We just decided to take the extra step."
Owens-Illinois supplies the injection/stretch blow-molded bottles and the injection-molded polypropylene closures. The 250-mL bottle is a monolayer construction and weighs 21 g. The larger bottle, weighing 23.6 g, is blown from a three-layer coinjection molded preform whose middle layer could be recycled material or barrier material.
Future applications, says Andrews, are likely to include barrier and/or recycled content, but currently the 330-mL bottle is all PET.
Sterile environment
Following depalletizing on a Krones machine, bottles are sterilized, rinsed, filled, and capped on Procomac's CC Unibloc 2 aseptic system. It runs at about 400 bottles/min and typically operates around the clock five days a week.
The Unibloc equipment is housed within a microbiological "isolator" made of flexible, transparent polyvinyl chloride that essentially forms a tunnel, separating the internal and external environments. The internal environment is pressurized with sterile air that passes through 99.99% HEPA filters.
Encased within this internal isolator are the sterilizing, rinsing, filling, and capping equipment. Also included are transfer starwheels, bottle and cap infeed, and capped-bottle outfeed sections. Containers and closures are sterilized by a liquid spray of oxonia, which is a combination of hydrogen peroxide and peristaltic acid. A foam spray of oxonia is used to sterilize machinery.
To maintain and service the equipment, and to monitor production without breaking asepsis, the microbiological isolator includes half-suits, gloves, a sterile transfer "box," and material waste "traps."
Should bottles or caps be damaged in the aseptic "chamber," a skilled operator would enter through a sterile air curtain (or box) and slip into the half-suit and gloves. He would then remove the damaged materials and place them into the waste bag or trap. If something needs to be put into the machine, perhaps for repair purposes, the operator would again enter through the sterile air curtain and spray the tool or tools needed for the repair with the oxonia solution. The tools would be left in the sterile area for a certain time period before the operator would reenter the curtain to complete the necessary tasks.
Bottle infeed
The aseptic process begins as bottles are air-conveyed to mechanical grippers that carry the bottles by their 38-mm necks through the aseptic equipment.
Bottles enter the aseptic area through a starwheel. Positive sterile air pressure in the aseptic area prevents nonsterile air ingress at this entry point. Bottles are sterilized internally and externally with the liquid oxonia solution as they index around Procomac's 90-head rotary electronic sterilizer. An electronic control sensor monitors the spraying of each of the 90 nozzles. Another sensor verifies that the penetrating nozzle fully treats the inside of the bottle.
From the sterilizer, the gripped bottles index through a transfer starwheel into a 90-head rotary electronic rinsing station. Sterile water is distributed from a manifold that's fitted with a steam barrier in order to avoid potential contamination should a leak permit external air to enter.
As bottles discharge from the rinsing turret, they continue to be gripped by their necks as they pass through another transfer to a 70-valve Fillstar FX unit. Filling is done without the filling valves ever contacting the bottle so there is no risk of transmitting any contamination from the valve to the container. Orange juice is protected with an overpressure of sterile nitrogen and air to avoid oxidation inside the filler's buffer tank, which includes a product agitator.
"Each nozzle is fitted with a flow meter that monitors the quantity of liquid," says Andrews. "It can also control the flow so that we can prevent frothing with certain products. We need to be able to accelerate filling at certain rates so we can fill it without causing too much frothing." Juice with pulp, for example, does not change the aseptic process requirements, but it "does affect the filling characteristics," Andrews notes.
Capping
Filled bottles go through another transfer starwheel and onto a 20-head capper from Arol. Independent pressurization modules maintain proper pressure for the cap hopper and capper conveyor that delivers the caps to the capping unit that twists a cap onto a bottle. Caps are treated inside and out with the oxonia solution and rinsed with sterile water.
Filled and capped bottles are discharged from the aseptic/isolator unit through an outlet tunnel to the external area without the two environments coming into contact with one another. Again, overpressure of sterile air in the aseptic area prevents nonsterile air from entering the aseptic area as bottles discharge on their bases through a wall to downstream accumulation, inspection, labeling, shrink wrapping/tray packing, palletization, and stretch wrapping equipment (see sidebar, page 50).
Pride in the line
Tropicana Europe is proud of the Belgium facility. That's especially the case for several key people that were instrumental in making the plant a reality. They include not only Steve Andrews, but also Wim Koopmans, project manager and now factory manager; Guido Hex, Northern Europe operations director; Scott McCurry, senior vice president of operations; and Philippe Leys, who had worked for an engineering firm involved in developing the plant before being hired directly by Tropicana Europe.
Andrews was a consultant for Tropicana's aseptic bottling line installed a year earlier at the company's Bradenton, FL, plant. There, too, a Procomac system was installed. "When we were deciding on aseptic packaging machines, we felt there really weren't many choices for the technology," he says.
The Procomac equipment ordered for the Zeebrugge plant differs in one key respect from Bradenton's line.
"During the time we were developing and installing the machine with Procomac in Bradenton, we realized the process was based on bottles being held and conveyed by their bases," Andrews recalls. "That was okay for Bradenton because the plant's focus is primarily on only one bottle size, 14 ounces.
"But here in Europe," he continues, "we needed the equipment to be able to produce a lot of things, so we couldn't have long changeover times. We avoided them by using the same 38-mm-diameter neck finish for all sizes and by having the Procomac system handle bottles by the neck rather than having bottles conveyed on their bases."
Future opportunities
Now that the Zeebrugge plant has some experience with the aseptic bottling line, Andrews was asked about a return on investment for the machinery. "It's too soon in the process to measure, in part because we've not yet reached the efficiencies on the machinery that we plan to in the future," he says.
What really excites Andrews about the future is that the Procomac line offers the company an opportunity to market alternative beverages in different bottle shapes and sizes. Those are currently in the planning stages.
"Procomac has worked closely with us and the equipment is flexible enough for us to meet marketing's requirement to produce a 1.5-litre bottle, as well as bottles ranging in sizes from 200 mL to 1 litre," says Andrews. "We'll need to develop larger turrets for the 1.5-litre size because those bottles would require more time for the sterilants to take effect."
Running more bottles would help the company improve its efficiency on the equipment as well. "Now there's some spare capacity on the line," Andrews admits. "In the future, the line will not be used solely for these two sizes, nor for just orange juice, but also for other products and bottle sizes." Asked to be more specific, Andrews smiles knowingly and responds, "just watch this space."
Companies in this article