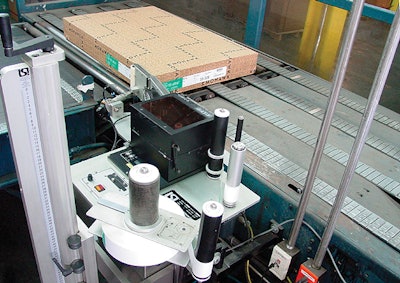 From two plants in upstate New York, Mohawk Paper supplies paper in two formats to a varied customer base. Its cut-size papers, including sizes such as 8½" x 11", 11" x 17", or 8½" x 14", are wrapped in paper, and these reams of paper are case packed in a variety of case counts. The other format is a folio sheet. These measure as small as 17½" x 22½" and as large as 28" x 40". Typically destined for a commercial art application, they're fed directly from a sheeter into a corrugated case.
Both package formats require labeling, and recently the firm made a notable improvement in its labeling methods. Nearly eliminated are glue-applied preprinted labels. For the most part, they've been replaced by pressure-sensitive labels that are thermal-transfer-printed and applied on-line.
Distributor Macaran Printed Products played a key role in supplying the new equipment that permitted the transformation in labeling. In Mohawk Paper's Waterford plant, two Model 200 print-and-apply labeling heads from LSI with LSI Model 030 vacuum grid roll-on applicators have been installed for cases of folio sheets. Each labeling system is equipped with a Sato Model 8485 thermal-transfer print engine. Each labeling system is mounted downstream from a folio sheeter. In each case, the folio sheets are automatically packed in corrugated and then the corrugated case is conveyed past the labeler.
This represents a considerable improvement. In the past, preprinted paper labels were applied to folio cases by a machine that applied wet glue to the back of a label and then attached the label to the case. According to Mohawk Paper's Gabriela Aldrete, senior process engineer, this label application equipment was old and unreliable.
"Sometimes two labels were applied instead of one," says Aldrete. "Or not enough glue was applied so the label would come loose. Or the label was applied but misaligned. The machine broke down too often, as well."
Now that the LSI/Sato equipment is in place, p-s labels are printed right on line and applied smoothly and accurately, says Aldrete. "It's a much more attractive presentation," she says. Inventory is much simpler, too, she adds, because printing is done on-line. To make a change in the information required on a label, an operator simply pulls up that information from a preprogrammed library and pushes a button to send it to the print engine, says Haight.
Engineering smarts
One other bit of engineering cleverness on each label applicator is worth pointing out. Because the labels being applied to the folio cases can range from 2.25" to 10" long, the applicator pivots from the peeler plate end. This allows the trailing edge of the label to come in contact with the corrugated case regardless of label size. A more typical system might require change parts for each label size.
Also in Waterford is a production and packaging line for cut-size paper, like the 8½"x11" sheets that make their way to the office copier machine. Until the recent upgrade in labeling at Waterford, preprinted p-s labels were used. They were applied to reams of paper by an automatic label applicator. But now a Sato Model 8485 thermal-transfer print engine has been installed on the labeler to allow print-and-apply capabilities here, too. All the same benefits gained on the folio lines—neatness, accuracy, simplified inventory—are gained here, too. Reams of paper are then case packed by hand and cases are labeled by hand with p-s labels printed off-line on a Sato Model CL-408 thermal-transfer print engine.
On Mohawk's folio sheet line in Cohoes, NY, folio sheets are cut, boxed, and labeled by the same LSI/Sato thermal-transfer print-and-apply labeling system as the two systems that were installed on the folio lines in Waterford. Also at Cohoes, in the Specialty Converting Center, are two lines that automatically convert large rolls of paper into cut-size sheets and wrap the sheets in reams. One of these lines has its own print-and-apply ream labeler. But on the other line, an LSI/Sato print-and-apply system puts labels on reams. In each line, wrapped and labeled reams are sent to wraparound case packers. Following each case packer is an LSI/Sato print-and-apply labeling system for labeling of cases.
Aldrete says the transition to online print-and-apply labeling at the two plants required a production shut-down. So most of the switch was made during routine summer shut-down in 2002.
"It all started with a new marketing campaign that forced us to seek a cleaner, more contemporary look for our packaging," recalls Aldrete.
That mission has apparently been accomplished.
"Our appearance is greatly improved," says Aldrete.
Companies in this article