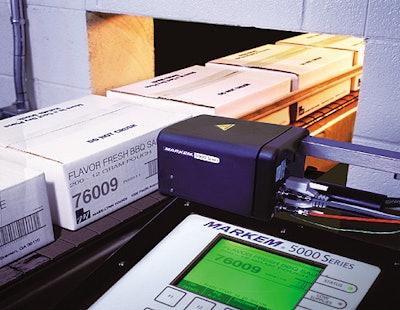 Shipping more than a half million cases per month demands reliable case coding at Mark-Lynn Foods, Bremen, GA. That reliability has been a reality since the manufacturer and packager of foodservice and institutional items began using Markem's 5000-Series high-resolution ink-jet coders.
Currently the company employs 29 coders, 16 on wet lines used to package ketchup, mustard, mayonnaise, salad dressings, dipping sauces, jellies, jams, and syrups. Those coders were installed in 2000. The remainder of the ink-jet units were up and running last year on 13 dry lines used for packaging products such as sugar, sugar substitutes, powdered coffee creamers, and various drink mixes. Most wet goods sell under Mark-Lynn brand names, whereas about 60% of all dry goods are sold under "house" names and 40% as private-label offerings.
Before investing in the Markem coders, Mark-Lynn hand-applied a pressure-sensitive label to cases while also equipping three lines with large-character ink-jet coders.
"The former coders were messy, and their print quality was granular and not at all what we wanted it to be. The Markem coders provide a high-resolution code that looks smooth and is easy to read," says Kerry White, Mark-Lynn's director of information technology.
As for the hand-labeling, White says, "A three-inch by four-inch label cost us anywhere from one-and-one-half to three cents each." He estimates that the ink used to mark each box now costs .004¢ to .005¢ per case.
Labor costs are trickier to calculate. Each packaging line produces about 19ꯠ cases per month. Each label took four to six seconds to print automatically, then be manually applied. White says annual labor savings come to around $31ꯠ.
The 16 wet lines run one shift per day, five days per week and the 13 dry lines run three shifts, five days per week. Cases contain anywhere from 6 to 6ꯠ packs, depending on the product. Products are filled into a variety of configurations including small, flexible condiment packets, canisters, bag-in-box, #10 cans, and 2-lb flexible bags.
Rigorous search
White says that Mark-Lynn management wanted to move away from manual labeling and automate the process, as it began doing with equipment on many of its packaging lines.
Back in 1999, White embarked on a plan to evaluate prospective coding equipment. "We invited six manufacturers or representatives to visit us and observe our operation and learn our application," he recalls. "We gave them guidelines for our future [needs], budgetary numbers, and that instructed them that the coders would have to be networked to our software. We wanted the coding software to be a 'slave' to our system."
During the equipment selection process, he says, "We visited vendors' plants, and also saw the equipment in operation at another plant. Another criterion we had was to have suppliers send a coder for a 30-day trial period.
"We bought a machine from two companies," White continues. "One vendor's coder was very cumbersome to program codes. It was not a what-you-see-is-what-you-get [WYSIWYG] machine. The nice thing about the Markem unit was that it was a WYSIWYG system."
White explains that he worked with Markem to network their coder to Mark-Lynn's system that oversees operations. That includes customer service, sales, invoicing, manufacturing, scheduling, warehousing, distribution, packaging equipment, calculating scrap, invoicing, and more.
That was done because Mark-Lynn didn't want to have to maintain roughly 3ꯠ SKUs worth of information on both the coder software and the company's in-house-developed operations management system, which he says is not quite a true manufacturing resource planning system.
Mark-Lynn's visit to Markem, as well as a trip to a Tropicana plant that had Markem ink-jet coders, helped sway the food manufacturer's decision to purchase the 5000-Series equipment.
Fitting into the lines
At the 170ꯠ-sq' Bremen plant, wet and dry goods are packed in two separate areas. Case packing is done manually at the end of each line but one. All but six lines employ a Series 5000 coder. Most of those lines are dedicated to low-volume products where manual case labeling is sufficient.
Coding equipment is outside of the packing areas, with taped cases moving through a wall from the wet and dry goods packaging rooms. Each coder includes its own ink reservoir that holds a
1-L bottle of the wax-based hot melt used for printing.
The coders print in an area on the case, or template, usually on one side of the case. The maximum print area within the template is 2.8" H x 22" W. "Different-sized boxes have different preprinted information on them, so when we program a code for a box we have to work around that preprinted information," says White. "But with each case we have the same 10 or 12 fields of data that we want to print on the box, such as item code, product description, sometimes a subdescription, pack configuration, bar code, lot number, and time stamp.
"We use different type sizes in the template area, with a five-digit item code being the largest," he continues. That type is about 1¼" high and benefits Mark-Lynn warehouse personnel as well as customers receiving shipments. An item description is in the next-largest code size. The smallest, says White, is a 1/8" time stamp. "It's the smallest code on the case, but it's very important to us," he states.
"If we notice a problem with product leaking from a case, or a customer calls us with a problem, we can look at the time stamp without needing to tear down an entire pallet. We can look in 15-minute time increments until we define the time of day we had a problem."
Happy ending
White says management's been happy with the roughly $350ꯠ coding investment. Asked if Mark-Lynn received a price break for investing in 29 coders, White chuckles, "I hope we did!" The reliability of the units and the service from Markem helped make the purchase a bargain for Mark-Lynn.
"It's a sizable installation for Markem as well," White notes. "And the first thing we told [them], and sometimes people don't really understand this, is that we wanted a partnership. We didn't want a typical customer-vendor relationship. We wanted [a supplier] that could work through the issues we had. Those issues had to be just as important to them as they were to us. Markem did that.
"We wanted a company that would listen to what we had to say when we had a need, and they've done that," he says. "We went to their facility and got the same training that they would have given their own field reps. I think it's been a good experience for both of us."
Companies in this article