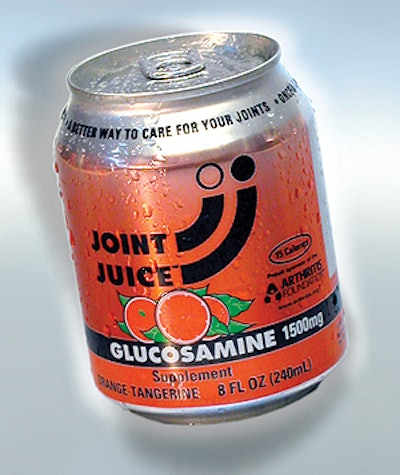 Make no bones about it, a new 8-oz aluminum can of Joint Juice is more than a 3-oz reduction in volume from the 11-oz bottle the product had been packaged in. It's a reformulation and major packaging change that the San Francisco company says makes its flagship product easier to use and more economical for consumers.
"Packaging Joint Juice in aluminum cans is a natural step for us as we seek an attractive, economical, and versatile package," says Jack Robertson, chief operating officer. "This is especially useful as we move the product to multipacks, enabling further stocking and marketing options for retailers, and guaranteed freshness and effectiveness for consumers."
The squat two-piece aluminum can, which has the same diameter as a standard 12-oz beverage can, is offset-printed in six colors and supplied by Rexam Beverage Can Americas. The drawn-and-ironed stock 211x307 can with 202 end replaces a premium-positioned, attractive bottle available for more than two years. The bottle featured attractive graphics on a shrink-sleeved label that showcased the colored contents. Unfortunately, the bottle's $1.99 retail price was a tough sell in a price-driven market, according to Joint Juice director of communications Lance Palumbo.
Joint Juice also found that their primary users were seniors who had trouble downing the bottle's 11-oz daily dose in one sitting, explains Palumbo. The key ingredient, glucosamine, is most effective when it is taken at once, he adds.
"We made the daily dose as small as possible, yet made it so that it still tastes good," he says. "There's a one-day supply of 1500 milligrams of glucosamine in one 8-ounce can."
The cans, introduced locally in early '03, carry a suggested price of 99 cents. "That's a tremendous savings, both in the cost of the can and amount of product," says Palumbo. "Glucosamine is relatively expensive." Joint Juice, which promotes joint health, is offered in three flavors: lemon iced tea, orange tangerine, and tropical.
Canned advantages
The cans are co-packed at a 7-Up Bottling Co. facility in Modesto, CA, which had also filled the bottles. Joint Juice vice president of operations Stewart Irving says the cans are run on a new line that tripled the co-packer's can-filling speeds upwards of 1ꯠ cans/min.
Irving points to the bottom-to-top gradation printed on the can as "very difficult to do because of the level of printing and registration needed. Rexam succeeded in maintaining a nice, clean look, and a pleasing fade toward the top of the can." The use of opaque and transparent inks and precisely controlled dot gain during printing enabled Rexam to achieve the results Joint Juice desired.
Irving opines that recycling for aluminum is "better developed than for glass, and that's a huge advantage. Consumers perceive that as a benefit when they buy the cans."
Irving also prefers the can's durability and transportability: "We have significant weight savings and density savings. We receive four times the number of empty cans in a truck than we did with glass bottles."
Multipack options
In early 2003, the cans became available in six-pack cartons sold locally in grocery stores and supermarkets. Widespread distribution is expected to follow, according to Palumbo. The six-packs are much easier to carry than the bottles' four-count basket carriers, Palumbo notes, yet retail for the same $5.99 price.
The six-pack carton is constructed of 18-pt SBS offset-printed in six colors plus UV coating. The supplier, Pacific Southwest Container, does a "fantastic job," according to Irving, who calls the 2x3 multipack "very consumer friendly. It provides a nice shelf presence and billboard for the product."
"The 6-count multipacks provide much needed 'real estate,'" adds Palumbo. "It's not just a drink that tastes good, we can get across the health story—specifically why Joint Juice is the best glucosamine available and why taking it 'once a day' is important. All the graphics and copy on the pack are like having an informational brochure available right there for consumers. There is no way to do that on an 8-oz can."
The company is also readying a 24-count club store pack that was expected to be commercial by the time this article appears. Supplied by Pacific Southwest and identical in construction to the sixpack carton, this new carton contains a total of four six-packs in two layers. The six-packs are unitized by plastic ring carriers. The 24-count case of filled aluminum cans weighs 15 lb. Because buyers typically purchase a one-month supply, the lightweighting means they can carry home a one-month supply in cans that weigh 15 lb less than if in bottles, Palumbo says.
For Joint Juice, the savings are significant. Says Irving, "the overall economic advantages of the can are well in excess of 25 percent."
For retailers, the glass-to-aluminum switch has yielded clear-cut results, according to Palumbo. "The response has been positive from every one of our retailers," he says. "One fear we had was that people would think this stubby little can was weird, but consumers are excited about it."
Companies in this article