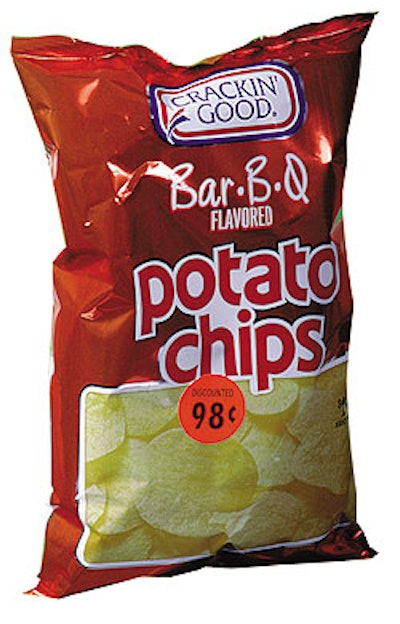 Among the first products to be redesigned were potato chips, which were updated and changed from the Crackin' Good brand (below) to Winn-Dixie. The new bags (right), in sizes including 5½ oz and 12¼ oz, were introduced into stores earlier this year.
"Potato chips have been a real success story," enthuses John Opasinski, Winn-Dixie's director of corporate brand marketing. "It's an important, high-volume category, with outstanding packaging exemplified by companies like Frito-Lay. Our product graphics and the entire product presentation are superior to those we had before.
"The Winn-Dixie name that's now on the products carries a lot of recognition, and is a great source of pride for our employees. And it's tremendous for our customers, long familiar with the Winn-Dixie name, to now see that on our packaging, along with how we stand behind the product." A quality guarantee is printed on every package.
"In fact, we can't disclose sales numbers," says Opasinski, "but largely because of the new design, the chips category has already done very well." He adds that redesigned salty snacks will be introduced shortly.
See the story that goes with this sidebar: Winn-Dixie leverages its own brand name
Companies in this article