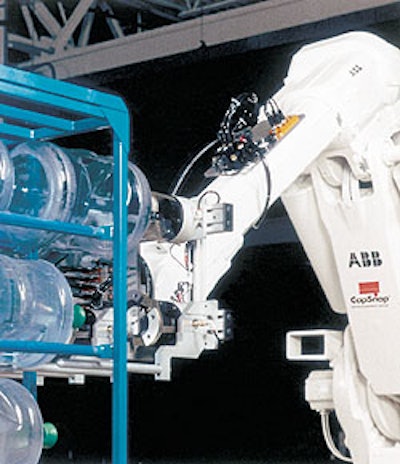 Harry Hilliam, an Australian entrepreneur, began Neverfail Bottled Water Co. of Sydney after a trip to the United States in 1987 when he observed the growth of the bottled water business. The North American inspiration continued when Bruce Taylor joined the company in ?5 after experience with Vancouver, BC-based Canadian Springs, now a part of Sparkling Springs Water Group.
Hilliam began his company by focusing on water coolers for the workplace, then well established in America, but new to Australia. He began to bottle water from a spring on family-owned property near Sydney. Today, Neverfail operates five bottling plants, each near one of Australia's largest cities. And all plants employ PortaPlant bottle clean/fill/cap lines from CapSnap Water Group, part of Portola Packaging (San Jose, CA).
Taylor, national plant operations manager at Neverfail, developed a relationship with CapSnap while working for Canadian Springs. "When I had the opportunity to replace three of Neverfail's old bottling machines, I welcomed the chance to take this productivity step.?The largest PortaPlant installation in the Neverfail network was placed two years ago at Thornleigh, just outside Sydney.
The PortaPlant 2100 at Thornleigh automatically loads eight of the company's 4- and 5-gal bottles per cycle into the washer. PLCs control the continuous indexing of 144 bottles through 18 consecutive steps in the cleaning process. A 10-valve side-shift filler can fill bottles in as little as 7 sec. Overflow water is recovered via CapSnap's proprietary contamination-proof recovery system. The cap feeder includes a special lubricator system that sprays ozonated water into the caps. This not only helps in seating the caps, but it also sterilizes them prior to application, according to Taylor.
"We went from 700 to 2100 bottles per hour almost overnight,?says Darrell Hobby, production manager at Thornleigh. "This system allowed us to go from two shifts to one, and the payback will be less than three years.?
This equipment is approved by both the Intl. Bottled Water Assn. and the National Sanitation Foundation. That was also important to Neverfail. "We're in the process of becoming HACCP-certified [hazard analysis critical control points], and equipment like this makes that easier,?says Hobby.
Rack loading updated
Not long after the new line was up and running, the plant found that its older mechanical rack loader couldn't keep up. It discovered that CapSnap had just developed the RoboLoader?in concert with ABB Flexible Automation (New Berlin, WI), and the Thornleigh plant bought the first one.
"It was their very first robot, but we had faith in them,?says Taylor. "No one had any real idea of what would be invoved in start-up. We had to marry all the conveyors from a system put together in San Jose, California, with a robot coming from Sweden. But Portola put its full effort into it and helped us solve problems as we went along.?Installation went well and the new loader helped the plant deal with tight space because it had one-half the footprint of the previous mechanical loader.
The robot is capable of unloading and loading standard steel and plastic bottle racks at speeds up to 2겨 bottles/hr, so it's comfortable with the output at Thornleigh. In addition, it will shift to different bottle sizes simply by an operator throwing a switch, and sensors allow it to detect different rack sizes.
"With the old mechanical loader, changeover was labor-intensive and took about 30 minutes,?Hobby says. He adds that maintenance time has been cut by 75%, compared to the former mechanical system. "We do a visual inspection each day of the head, grippers, and other parts. We inventory these parts, supplied by Portola.?
Even more important, the robot scores high in the plant's productivity measure of bottles/manhour. "Most of our plants run at around 275 bottles per manhour, but we're getting 325 bottles per manhour at Sydney,?Taylor reports. Before the robot was added, Thornleigh's productivity was 196 bottles/manhour.
Scheduling help, too
The fact that the bottle loading and unloading sequences can be automatically changed really aids in production scheduling, Hobby points out. "At the end of a shift, we can have the robot take all empty bottles out of racks and send them toward the washer. We like to have a buffer of five racks of bottles. Then with the robot, we can just start up with a reverse scenario for the next shift. The start-up and shut-down procedures are very quick with the robot, and this saves us a lot of production time.?
Because the loader handles bottles so gently, Neverfail achieves incredible turns on bottles, on average 80 to 100 trips. Still, the company adds 250ꯠ bottles/yr to its system, in part because the company is shifting its inventory to 15-L (4 gallon) bottles from the more common 19-L (5 gallon) size. That's because the government recommends that 15 kilos should be the maximum allowable lift in offices.
"We've seen a lot of advantages from the PortaPlant 2100 and the RoboLoader,?Hobby notes, "but cost savings is what drives our push for new technology. We'll be upgrading all our plants to the RoboLoader over the next few years, and we're planning to add the PortaPlant 2100 to three other locations.?
The new automation—along with other cost reduction programs—has cut the the cost of producing each bottle from $1.28 to an average of 98¢ nationally. According to Taylor, that includes buying spring water from several sources, since its volume has long ago outstripped the water from the family spring.
"Our cost-per-bottle is down primarily because of automation,?Taylor states definitively. —AO
Companies in this article