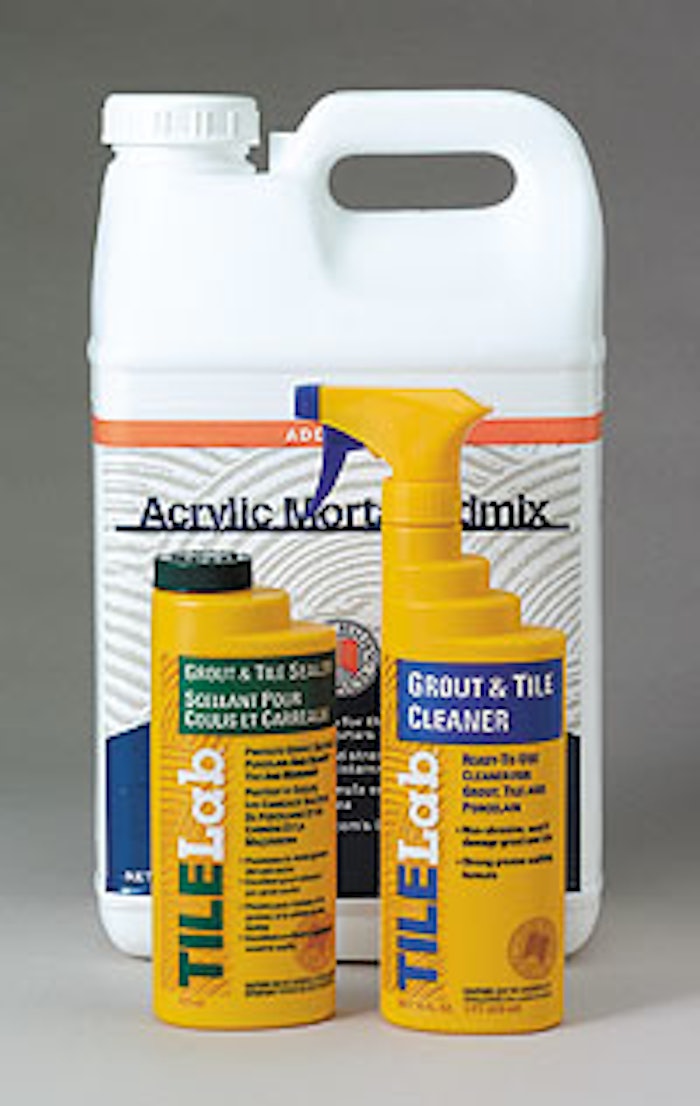 In 2000, Custom Building Products, Seal Beach, CA, makers of products for ceramic tile, sought a machinery builder to take on the formidable task of automating a particularly challenging case packing operation. It was the latest part of a plan begun three years earlier to improve packaging on a key line at its Bell, CA, production facility.
In 1997, CBP increased its capacity and efficiency by upgrading one filler and adding another, along with a new capper, to the line. Assistant plant manager Tom Milan muses, "We had one rotary filler that both the Smithsonian Institute and the local scrap dealer were vying for."
This latest improvement focused on the line's manual casing operations. It was an especially challenging undertaking because the case packer must accept sizes and styles from cylindrical pints to ovals to 10-qt F-style containers. In addition, the custom packer could not be cost prohibitive. "We were told it was rare to have as many as five different package sizes on one machine," explains Milan. That was why case packing had remained a manual operation, but as his hobby is mountain biking, Milan knows a bit about overcoming obstacles.
Willing 'volunteer'
According to Milan, the project's complexity caused it to be turned down by several suppliers, with one exception: S.V. Dice Designers (Walnut, CA). The vendor's highly customized Model 127 SL (side-loading) automatic case erector/packer/sealer was in full production by March 2001. Located near the end of a J-shaped line, the case packer produces glue-sealed cases at a rate of 13 to 15 cases/min. It features servo-driven belt lane dividers and a specially designed cassette-style "disappearing guide" system (see sidebar p. 40) to accommodate the range of containers for side loading. Its high degree of automation means tool-less changeovers for 12 different setups using five different cassettes. The case packer is electromechanical with pneumatic components.
"The benefits of automated case packing are primarily labor savings, uniformity, and increased productivity," says Milan. "We've halved our labor costs."
At the infeed, a set of side belts run by three Indramat servo drives from Bosch Rexroth (Hoffman Estates, IL) direct the containers into two, three, or four lanes. Had cylindrical bottles only been used, then static guides instead of belts would have sufficed. However, CBP's asymmetric oval bottles mandated the use of the belts to maintain positive control. The day of Packaging World's visit, four lanes were used for the 16-oz bottles packed in 12-count cases in a 3 x 4 pattern for distribution in Canada. The belts' positioning for the particular containers' width is set by handwheels from Siko Products (Dexter, MI), with digital readouts for precise alignment.
Run by an Allen-Bradley SLC 5/04 programmable logic controller from Rockwell Automation (Milwaukee, WI), the caser has a touchscreen human-machine interface from CTC Parker Automation (Milford, OH). Infeed lane settings, error messages, I/O monitoring, and glue pattern adjustment for all 12 products can be accessed via the touchscreen. It also allows the operator to access an online version of the manual as well as the changeover procedure.
Sequence of operations
The following summarizes the machine's operating sequence:
1. When sensors detect that each lane in the accumulation chamber is full of bottles, a product stop blade passes between the bottles on the infeed conveyor and the accumulation chamber. The blade reduces back pressure and prevents product from entering the chamber while the machine is loading.
2. The deadplate on which the bottles rest in the chamber shifts forward ½'', a small shift that yields big benefits: It prevents bottles, especially ovals, from shingling and also better controls the loading stroke, PW is told.
3. The cassette guides retract (See sidebar. p. 40) to allow the pneumatic cross-pusher to side-load the group of bottles from the product accumulation chamber to the case. The bottles are guided to the case through a funnel.
4. The loaded case is indexed forward and the open-end minor flaps are closed using a flap tucker. The case packer indexes again, hot melt glue is applied, and the flaps are closed and sealed using compression plates.
Before, cases had been tape sealed. "We have also had cost savings in using glue instead of tape," says Milan. "The glued side panels offer a sturdier case for stacking."
The machine was modified so that it would handle cases that were wider than long as well as longer than wide, and of varying depth. This was accomplished using a combination of controls and an adjustable case conveying chain track.
All in all, Custom Building Products found its custom case packer to be the perfect solution.
Companies in this article