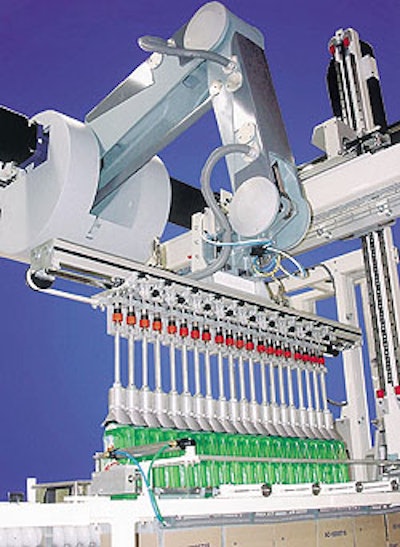 Just north of Paris, in the French town of Compiegne, Colgate-Palmolive Europe's largest plant is benefiting from the first installation of a high-speed case packer from French manufacturer Cermex, a member of the Sidel group represented in the United States by Cermex Inc. (Norcross, GA). According to Jean-Francoise Wyllie, operational support manager at C-P Europe, the new case packer brings a unique combination of speed, flexibility, and gentle bottle handling.
The ER63 case packer was developed for high-speed, high-production applications. At C-P Europe, it's currently dedicated to a single, versatile line that fills liquid household cleaning and fabric-softening products into plastic bottles in a variety of sizes.
Capable of speeds to 330 bottles/min, the ER63 is a descendent of the Cermex ER60. That machine also features a "pendulum" robotic head. Its sole task is to lift bottles from an infeed conveyor, stroke back, and drop the bottles into corrugated cases that sit on a conveyor running parallel to bottle infeed. Its motion, powered by servo motors, is limited to two axes: up/down is one axis and perpendicular to the machine direction is the other.
What makes the ER63's robotic head so different from the ER60's is that it adds a third axis of motion. In addition to moving up and down and perpendicular to the machine direction, it also moves back and forth in line with the same axis along which the bottles and cases are conveyed. The entire robotic head, arm included, is mounted on an overhead guide rail, and a servo motor propels the whole piece along this machine-direction axis.
Because the robotic head has this third axis of motion, it doesn't wait for bottles to come to it. Instead, it strokes back to get them. And because its motions are electronically synchronized with the paired infeed screws that bring bottles into the case packer, bottles don't have to start and stop as they have to on the ER60. The robotic head picks bottles up on the fly. It then strokes forward and lowers the bottles into the cases. According to Cermex, this continuous-motion approach, though it applies to bottles only and not cases, results in significantly higher speeds than what can be achieved on an intermittent-motion machine. It's also designed to reduce scuffing of bottles and exert less stress on machine components.
Flexibility a must
Flexibility was also a specific C-P requirement during the development of the new case packer. The ER63 doesn't disappoint. A variety of bottle sizes can be handled on the machine. Depending on the bottle being case packed, C-P can fit the individual pick heads with mechanical grippers, inflatable membranes, or a combination of the two. Similarly, the number of cases in the filling station can vary from two to six.
Another bit of flexibility involves bottle orientation. Specially designed feed screws, which operate as pairs, can be used to turn bottles 90° so that they enter the case packer with their label panels leading. Again, it all depends on the specific requirements of the job at hand.
Increased changeover speed was another C-P requirement. So Cermex designed the ER63 with quick-change features that permit a bottle-size change in 15 minutes with only one operator.
C-P and Cermex spent about six months developing the ER63. According to C-P's Wyllie, Cermex's ability to supply solutions that can be adopted globally and its willingness to form a partnership with C-P in the development of the ER63 were key considerations in C-P's choice of suppliers.
The new case packing system has been operating at the Compiegne plant for just about a year. During a press visit at the end of 2001, the ER63 was operating with a 20-head gripper packing 1-L PET bottles into corrugated shippers erected by a Cermex case erector.
"The ER63," said Wyllie during the press visit, "offers us a solution to our demands for speed and flexibility while also addressing the particular problems of packing increasingly lightweight plastic bottles without damage."
Companies in this article