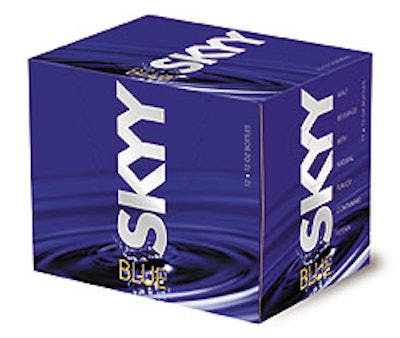 (see Packaging World, Dec. '94, p. 22, or packworld.com/go/skyy)
Developed and marketed via a partnership between Milwaukee-based Miller Brewing Co. and Skyy Spirits of San Francisco, Skyy Blue will be available nationwide next month in six, 12- and 24-count packs.
"The bottle is very distinctive and projects a sophisticated look that grabs the consumer's [attention]," notes Miller spokesperson Scott Bussen. "In development, we wanted to build on the momentum of Skyy Vodka, and its bottle, which has an incredible quality perception among consumers."
According to Miller, glass bottles are supplied by Owens-Brockway (Toledo, OH). A striking blue 2-mil polyester label from NorthStar Print Group (Watertown, WI) adds a mirror-like finish. The AquaStar® label is printed gravure in three colors. Six-and 12-pack cartons are supplied by Riverwood (Atlanta, GA), and shipping cases from Inland Paperboard and Packaging (Indianapolis, IN). Bussen says Skyy Blue is filled at Miller breweries in Tumwater, WA, and Albany, GA, though details about the process and speeds were considered proprietary.
The malt-based beverage includes a blend of citrus and natural flavors, and contains 5% alcohol by volume. According to Bussen, "the same tax, advertising, and distribution laws and regulations that apply to malt beverages apply to Skyy Blue." It will be marketed to the 21 to 27 age group. "That group has driven growth in the alternative malt beverage category," says Bussen. "It will be sold pretty much anywhere you'd buy beer at retail, and at on-premise locations." (JB)
Companies in this article
Videos from Graphic Packaging International