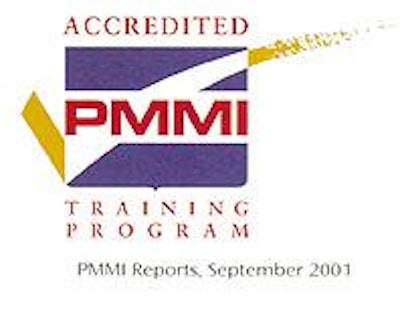 It's been a long time coming, but the "train the trainer" program developed by the Packaging Machinery Manufacturers Institute (Arlington, VA) and by General Physics (Columbia, MD) is crystallizing. Two editors were invited to observe and participate in a pilot "test" session held at Goodman Packaging (Waukegan, IL) in late August.
And, it seems safe to say, General Physics' trainer, Trudy Runge, may have learned as much that day as the dozen or so machinery trainers who took part. The same is probably true for Maggie Elgin, PMMI's director of education and workforce development, and for Glen Long, president and CEO of Inex Vision Systems and chairman of PMMI's education committee. Yes, an 80-page manual circulated to all attendees is chock-full of ideas and tips for organizing and delivering a training program.
Perhaps equally important, the attendees learned, is that the practical contributions of each of the trainers through tips and anecdotes proved to be just as valuable. And one unexpected source of help came in the form of advice from Mike Welch, technical training manager for Kraft Foods in Chicago, who, like the editors, "audited" the course while offering some interesting insights from his company's perspective on the "receiving" end of machinery makers' training programs.
There are two elements to PMMI's program. First, each individual trainer who passes the course receives a Certificate of Completion. In addition, along with having a trainer with a Certificate, member companies that develop appropriate training documentation in accordance with PMMI-approved plans can eventually qualify to become an Accredited Customer Training Program.
Over the last 18 months, PMMI's program has been the subject of many meetings, both by Long's committee and by PMMI and General Physics. At one time, the organization planned to make the training sessions available to all in packaging, PMMI members, nonmembers and even to end users. Now that's been scaled back to PMMI members exclusively, although this could change in the future. Nonetheless, the principles of training apply across the board, since most end users like Kraft do their own training in-house.
Similarly, the individual sessions have been pared down from one week to four days and now to one full day. And the name of the program reflects a content shift to On-Job Training, instead of a total focus on classroom-type training.
For this pilot session, instructor Trudy Runge adjusted her training plan, based on the amount of discussion that was generated by some topics. Virtually all participants shared their thoughts and, in many cases, their experiences in training situations. Some trainers like Zeke Picardel from Krones, Inc., have had many years of experience as a full-time trainer on packaging equipment. Others, like Chuck Theobald of Norwood Marking Systems, have just begun to train customers on machinery; previously, this training had been conducted by technicians.
Despite this wide difference in experience, all of the trainers participated, especially in the numerous exercises that Runge conducted, which were mostly taken from the manual. Brian Schwake of Amplas said he felt PMMI's training manual would provide excellent long term lessons at his company. One topic that generated a great deal of discussion: Responding to the Adult Learner.
Some handicaps
Runge went through a table in the workbook that explained some typical characteristics of adult learners and how trainers could respond to them. Then she asked the trainers to identify one of the factors and explain how they had coped with it from their own training experience.
For example, Ron Farber of Krones explained that sometimes a language barrier can be very tough to overcome. At the close of a training session Farber conducted, an operator couldn't take the written test because she couldn't read English well enough. To avoid embarrassment to her and to qualify her for the course, he took her aside and read the questions to her.
Joe Friedel of Ideal Mfg. recalled a session where he sensed one trainee just wasn't absorbing the information. He said he used a personal story from his own background that helped the trainee relate better to the material.
Zeke Picardel had a similar problem in training three older men with lots of practical experience. He sensed they didn't like the theoretical part of training, so he put them into the first group to receive hands-on training, and their interest soared.
In terms of test-taking, Runge reminded the trainers that trainees with a lot of experience may not have actually taken a written test in 30 or 40 years, so they often display a lot of anxiety.
Evaluating is key
One of the final parts to the training equation is evaluation of the program to make sure it's effective. Evaluation can and should occur at many levels, Runge said. The information presented needs to be evaluated, the trainer should be examined, and, most important, the trainees should be tested to determine how much they learned.
Runge suggested that, if possible, each training program should be site-specific, since machines and people differ between locations.
Krones' Zeke Picardel suggested a technique he often uses to measure how much the trainees have really absorbed. Once the training has been completed, Picardel will specifically load some faults into the machine being covered to see whether the trainees can fix it properly. However, he added, this doesn't replace a formal test with grading of the trainees.
Picardel said that Krones typically conducts a three-day program that combines classroom training, hands-on training, and practical demonstrations at the appropriate machinery.
Kraft's Mike Welch suggested that machinery trainers should check back three months after the training to determine whether the operation has improved to the satisfaction of the company. Sometimes, he said, the training might need to be repeated.
Dick Morse of Marconi Data Systems was somewhat skeptical about the testing phase. Numbers aren't everything, he cautioned, explaining that sometimes there may be other causes, for example packaging materials that might have drifted out-of-spec to cause problems. Also, a general trainee test doesn't truly represent what the customized training actually covered.
Goodman Packaging's Dave Martin put a different spin on the testing and evaluation step: "I don't care how much everyone knows," he said. "It's what they do that counts." Marconi's Morse seconded that idea, saying that the pass/fail criteria needs to include both a written test and performance of the desired task on the machine.
Responding to Welch's comment, Runge suggested a two- to six-month re-evaluation of the training with the plant manager at the appropriate location.
Operators or mechanics
Along the way, Kraft's Mike Welch brought up the subject of creating different training programs for operators than for mechanics. Although this elicited general agreement, some trainers pointed out pitfalls.
Marconi's Dick Morse noted that in large end-user companies, operator training can usually be limited to teaching how to operate the machine. But, he said, at smaller companies, job descriptions tend to be far more flexible and it's harder to separate technical from operator training. The goal, he agreed, would be to avoid technical training for operators where possible.
Wally Premovic of Packaging Machines Intl. said that his company structured its training differently for operators and mechanics. Operators received 25% of their training in the classroom and 75% on the packaging line. Those percentages were reversed for mechanics. The operators typically received one-half to one hour of training, while mechanics received two to four hours of training.
Welch also said that highly skilled mechanics should know some electrical and electronics skills today. He said the goal is not to make the mechanic a skilled electrician, but to teach enough so that the mechanic can be more versatile. And, Welch added, it improves communications between the two crafts.
Perils of cross-training
However, Marconi's Morse noted that, often in union plants, the unions won't permit any cross-training. Premovic from Packaging Machines Intl. recommended that trainers ask whether workers are organized before beginning to plan a training session. Welch added that trainers should avoid using terms like "cross-craft" when working in a union shop. "Multi-crafted" could also be problematic. He suggested more innocuous terms like "multi-tasking" and "job enrichment."
At Krones, Picardel said the mechanics' training mixes the mechanical and electronics disciplines. Welch suggested that perhaps technical titles could be changed to Packaging Technician or Maintenance Technician to respond to the issue of cross training. Runge suggested that a term like "equipment technician" might be best used for this joint training.
Ideal's Joe Friedel suggested that packaging needs three levels of training, for operators, mechanics and electronics technicians. "We should try to cross-train mechanics and electronics techs," he said. But, he said, "We can only 'suggest,' we can't require it" because of labor issues. He also suggested that trainers could use machine simulators in place of actual production machines, much like Krones trainers said they did.
See sidebar to this article: Machine training sessions scheduled
Companies in this article
Videos from Diagraph, An ITW Company