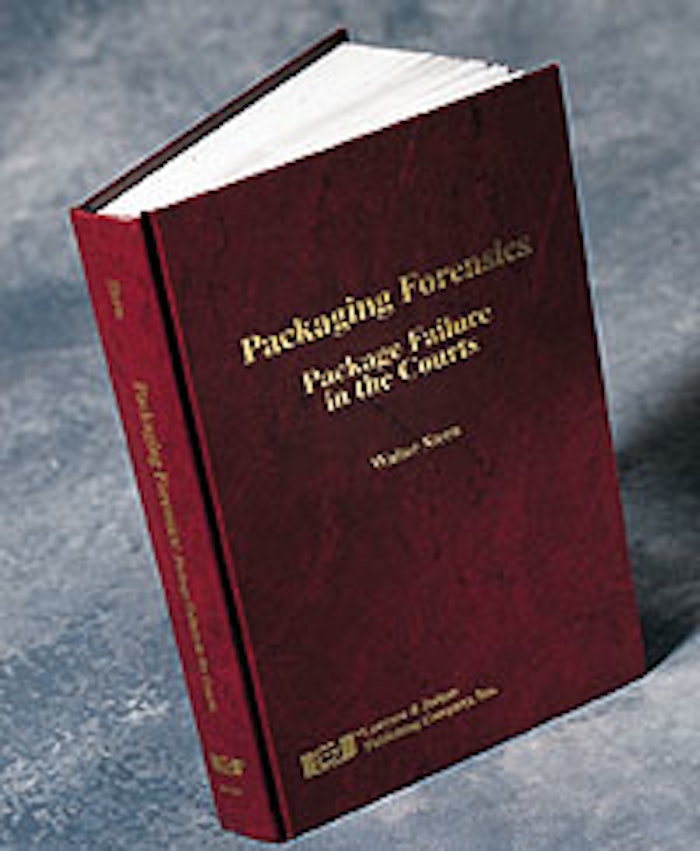 Tomes about packaging and the law are too often a "snooze." Usually, it's because the authors must write in "legalese," so that what they write stands up in court. Packaging Forensics: Package Failure in the Courts mostly defies this tradition. Edited and written in part by consultant Walter Stern, this handsomely bound 300-page volume is not only eminently readable but usually approaches its subject from the packaging perspective, not the legal one.
Published by Lawyers & Judges Publishing Co. (Tucson, AZ), this volume approaches packaging-related litigation from the perspective of packaging professionals, whether they be an expert packaging witness or the personnel responsible for packaging at manufacturers. Sure, some sections are penned by lawyers; even so, they usually report on specific cases by identifying both the positives and negatives of both defendant's and plaintiff's cases.
This use of appropriate "case" histories helps make the copy more readable. Stern's introduction examines in detail the role of a packaging expert in helping to prepare a case. "No packaging expert has ever lost or won a case," he emphasizes, noting that the expert must be seen to be "an impartial forensic examiner."
Stern begins with a general discussion of package failure cases in courts, explaining some of the obvious problems (glass breakage, cap malfunction, label information shortcomings) and others that are more unusual (plastic bottle ruptures, multipack failures, hold-down devices in set-up boxes). He concludes by offering a succinct six-point checklist for manufacturers seeking to avoid package litigation.
The next 26 chapters cover specific types of cases that are prepared by a variety of legal and packaging experts, including such well-known packaging people as Stern, Barry Rope, Dr. Paul Singh, Peter Henningsen, Ed Campbell, Robert Luciano and Alf McKinlay. Other authors are mostly attorneys or forensics experts like Dr. Jack Rosette.
Many of these chapters report on specific cases where the participants are usually unidentified. What these individual reports impart, though, is the detailed efforts of attorneys and packaging experts to examine the package problem and the culpability of all of the participants, including the manufacturer. Much of this is done by testing the failed container, examination of warnings and the feasibility of alternative packaging.
In discussing the 1982 Tylenol murders, attorney Nancy Zettler points out how damaging it was to McNeil Laboratories when the court heard about McNeil's knowledge of previous tampering incidents and that other drug makers were already using tamper-evident packaging. This ruling also clarified the issue of "manufacturer as expert." It found, she reports, that "manufacturers, as experts in their fields, have the duty to keep abreast of the state-of-the-art in their fields," Zettler writes. She goes on to speculate that, in the future, manufacturers may even be held liable for "knowledge of what is contained on the Internet."
Some chapters, of course, contain more legal jargon and cite numbers of cases. Still, for a manufacturer, these can be valuable references for both the company and its lawyers. The book offers biographies of all contributors and a substantial index to topics and organizations mentioned. The volume includes relatively few illustrations and drawings; more would have been helpful. And there are a few annoying typos and mistakes that one wouldn't expect in a book about the law. However, priced at $65, much less than an hour of consultation, this is an important reference work that offers guidance for manufacturers of all types of products. (AO)
Companies in this article