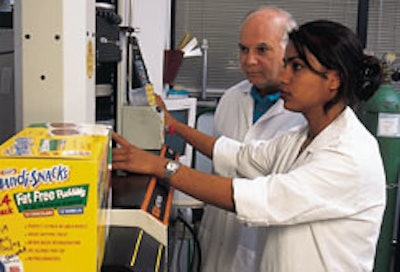 Sure, most packagers would like machinery companies to make their training more effective and less expensive. But respondents to the exclusive packworld.com training survey in July and August offered a far more detailed list of suggestions.
High on the list of many participants was for machinery builders to offer ongoing training programs, not just training at the time of installation. A cosmetics company representative asked for refresher courses, as did many others. A pharmaceutical company's representative wanted "on-site follow-up training after purchase and installation."
A participant from a national frozen pizza maker sought not just follow-up training, but requested the same instructor. "It's not until a machinery maker's rep leaves that unforeseen problems arise. And it's usually difficult to reschedule the same trainer due to his other obligations," she said. "If follow-up conference calls, Internet communications or personal visits could be scheduled from the start, a lot of the fears of new equipment would be eased."
Like many others, an industrial products company representative also wanted manuals available on the Web. That's not surprising, considering that the survey was conducted on the Internet.x
A packaging professional for a mail-order company would like to see a philosophical change among OEMs. He requested "a greater understanding by OEMs to adapt their training to a company's procedure, rather than expecting that a customer will adapt its process to fit their equipment." A major food company's representative had a similar criticism. "The training emphasis should be on normal function and troubleshooting, with less emphasis on sales pitches and 'blaming the other guy.' A maker of industrial products said it this way: "Training should be focused on the user application, not simply on machine operation."
A representative of a medical products company would like to see two levels of training. "One would be the basic operational training on how to run the machine," he said. "The other would be more technical and in depth for the support personnel."
Too often, noted the respondent from a small food company, "training is viewed by the OEM as a necessary evil before the customer makes the final payment. It should be viewed as a proactive link between the vendor and the machine purchaser." He expected "mutual gains when the customer is pleased not only with the machinery but with the overall understanding of its function, maintenance, software and integration capabilities."
A pharmaceutical maker's respondent asked for more "hands-on experience working with actual production of products." A participant from a surgical products maker had a simple solution: "Training should always come in two stages: during installation and secondly, after a run-in period."
Video- or computer-based
While many seek manuals or parts lists available on the Web, other survey respondents would like to see training programs on the Web or available on videotapes.
A respondent for a major housewares company's distribution center requested training materials on CD Rom or via Powerpoint computer presentations.
A pharmaceutical company's participant sought the same, adding that she preferred "training with which operators can interact." A national paint maker's participant also wanted "more electronic training materials and operating instructions, as well as preventive maintenance and maintenance training manuals."
The representative of a national personal products maker, among many others, would like more training videos. "These," he says, "go a long way towards reducing non-uniformity of equipment operation and maintenance across a three-shift operation." A food ingredients company participant agreed, saying this would expand the "availability of training hours across all shifts."
A respondent from a national maker of cleaning supplies also wanted to see more materials available in video or CD-Rom form. "If we had training and troubleshooting guides for our plant mechanics in these forms, they could eliminate a lot of manufacturer's calls." A participant with a housewares manufacturer agrees. "Videos with good detail on how to set up, load, calibrate, etcetera, a machine or component would be helpful," he said. "Too many machines come with only minimal paper support and only fair telephone service."
Focus more on the operator
While these suggestions centered on help for mechanics, other respondents wanted the focus to be more on the operator. "Extra concentration should be centered on the operator's viewpoint, and not so much on the mechanic," said the representative of a snack company. "Both are equally important, but it is the operator who is with the machine during the full shift."
A representative of an industrial cleaning products maker agreed. "We need more hands-on training for maintenance personnel, and more in-depth training for operators," he said. "As operators become the mechanic's eyes and ears, they need to understand how and why the equipment operates" when they relay problems to the mechanics.
In the face of increasing machine sophistication, the participant for a maker of industrial products sought "more user-friendly interfaces. Please do away with complex programming or Windows-based applications," he urged. The respondent for a large food processor viewed "controls issues" as causing many after-installation problems, and noted that many plants do not have controls specialists on-site for all three shifts of operations.
The representative of a small food company requested that OEMs develop "training modules" so equipment buyers could pick and choose different types of training during and after installation.
Certainly some respondents related to the cost of training. "Lower-cost training" was sought by the participant from a small food processor. The respondent from a maker of household lighting products believed in a "trial period for equipment, with discounts on required supplies."
Some suggestions were quite simple. A small food processor's representative asked: "Tell us where we can get more training information." Others reflected the effects of consolidation among manufacturers. "Make training and machinery warranty obligations global in scope," was the suggestion from a respondent with a multinational maker of household chemical products.