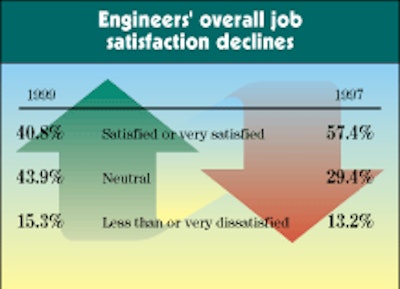 Engineers often form the foundation of a company's packaging function. So when that foundation begins to show signs of wear and tear, it's worth taking notice. The wear and tear on engineers comes from ever-growing job demands, less time to address packaging line efficiencies and small and infrequent pay increases—all against a corporate backdrop of growing cuts to both budget and staff.
These are among the results of Packaging World's second reader survey on salaries. Tabulations for our 1999 and 1997 surveys were completed by independent research firm Market Research Support Services (Roselle, IL). MRSS also compiled data for our overall 1999 survey results. Survey responses were compared last month (see PW, March '00, p. 30, or packworld.com/go/salary), and reports on the special reader survey conclude this month. This article focuses on packaging engineers, while another story (see p. 60) examines salaries of purchasing professionals.
Engineers accounted for 32% of the total salary survey respondents in '99, compared with 24% two years earlier. In the most recent survey, 98 engineers responded. Not surprisingly, they had much to say.
Preparing "paperwork and reports, [coping with] budget cuts, and attending meetings prevent me from concentrating on line efficiency," noted an engineer at a Midwest pharmaceuticals firm. An engineer for a hair care products maker in the Southeast added, "My current work load keeps me from addressing [in]efficiencies."
A third example of time demands came from an engineer for a Midwest food/beverage company, who said, "There are too many details and projects going on [concurrently] and no time to look into details."
Why they're dissatisfied
Only four of 10 engineers reported high overall job satisfaction (Chart A). That level slipped from nearly six in 10 who reported overall job satisfaction two years ago.
Survey responses suggested that there wasn't one overwhelming reason for the growing dissatisfaction. Instead, several individual job aspects appeared to be the culprits. Dissatisfaction was greater (Chart B) in number of hours worked, compensation and overall job satisfaction. Respondents to the latest survey were more satisfied with their decision-making autonomy and advancement potential than in '97.
Modest increases
A comparison of bottom-line numbers showed that engineers earned an average annual salary of $63군, up from $61괌 in '97. That increase seems rather modest considering the healthy packaging environment and the strong national economy between 1997 and 1999.
The slight pay raises were reflected in Chart C, where the average increase for the previous 12 months was 4.3% in '99, down from 1997's 4.9%. As the chart shows, '97 respondents enjoyed more raises in the 5% to 10% range, while '99 respondents reported raises more frequently in the 5% and under range. In fact, respondents to the most recent survey who said they had received no increase in the last two years soared five-fold compared to '97 survey respondents.
So what changed during the two-year timespan? According to engineers responding to the '99 survey, even more responsibilities were heaped upon them, without the benefit of additional pay (Chart D). Another negative factor in '99 was that engineers reported that they had experienced more packaging-related budget and staff cuts than respondents did two years earlier.
"Staffing deficiency dictates more fire-fighting versus proactive engineering," lamented an engineer with a pharmaceutical operation in the Northeast. "The lack of staff prevents me from working on developing new technologies," said a packaging department manager employed by a pharmaceutical maker in the Southeast. And a Southwest-based food/beverage product firm's engineer noted, "We do not have the manpower or resources to identify problem bottlenecks and implement solutions."
These resource cuts hardly foster a satisfying work environment. It bears watching to see if these cutbacks portend a more widespread trend.
Experienced engineers
Engineer dissatisfaction with salary and pay increases becomes even more understandable given that engineers have invested on average 12.2 years in their packaging careers. On average, 7.1 of those years have been at the engineer's present position (Chart E). Two years ago, engineers averaged 10 1/2 years in packaging and 6.7 years in their current job.
Not only are engineers experienced—and apparently loyal—they're also striving to better themselves by expanding their packaging knowledge. As PW has previously reported in several related stories, specialized packaging education either in trade school, college or after college tends to reap financial rewards. Engineers with packaging-specific education increased to 26.3% in '99 from 21.4% in '97 (Chart F).
What they'd do
Engineers didn't respond only to air grievances. They also provided their "wish lists." If they could, engineers said they'd prefer to focus their efforts on packaging line improvements, package research, examining more automated equipment and long-range planning for the companies that employ them. Those tasks would be priorities if they weren't putting so much time into "attending meetings" and "fighting daily fires."
"I would spend more time investing the company's money towards automation [to reduce the cost of] labor," related an engineer for a Midwest-based food/beverage manufacturer. "I can justify project paybacks in [the number of] weeks in a year—but [the company] still doesn't" provide that opportunity, exclaimed the apparently exasperated engineer.
"Developing greater manufacturing capability and flexibility," is what an engineer at a beverage plant in the Midwest would prefer to accomplish. "Strategic planning for the next five years" is what a packaging engineer for a Midwest-based pharmaceuticals company would do. He's unable to "because I spend all my time dealing with current-year projects."
"I would spend more time keeping up with new products and equipment," said an engineer with a food manufacturer in the Northeast. "Our company needs to support more training, shows and seminars."
"The selection of equipment should get more time, but tight schedules don't allow for it," added a pharmaceuticals company engineer in the Northeast.
Respondents would also like to spend more time improving the packages themselves. An engineer for a Southeast-based food/beverage maker grumbled, "Fixing our specification and procedure systems prevents me from doing more package development work."
"A heavy workload without help prevents creativity in package design and cost savings," noted an engineer with a maker of office supplies in the Northeast.
Demographics
Of the 98 engineers responding to the most recent survey, 91% were men. The average age was 43, with the greatest number ranging between 40 and 54. As for education, 61% had earned a four-year college degree and 15% of these had achieved a graduate degree. Another 20% earned a two-year degree. Only 13% reported having graduated high school or earning a GED certificate.
Respondents were most often employed at facilities packaging foods or beverages. That category produced 54% of responding engineers to this survey, compared with 44% in '97. Pharmaceuticals ranked second in response frequency both years. Chemicals, cosmetics and medical products came next. The order differed somewhat from '97's, which showed cosmetics as the third-most frequently packaged product, followed by chemicals and medical products.
In 1999, engineers reported they worked for a firm that employed an average of 954 people worldwide, a number somewhat lower than 1997's 1꯻ figure.
Mapping the geographics of survey respondents uncovered that half of 1999's engineers worked in the Midwest, 16% in the Northeast, 14% in the Southeast, followed in order by the Southwest/West, Mid-Atlantic and Mountain states (tie) and Northwest. In 1997, the Midwest drew 42% of responses, followed more closely by the Northeast (25%), then the Southeast, Southwest/West, Mid-Atlantic and Northwest.
Respondents most often carried the title of packaging, production or project engineer. Packaging R&D was also common.
Regardless of title, engineers appeared content, with higher salaries and improved decision-making autonomy in 1999. Dive a little deeper, however, and the waters of overall job satisfaction became rather murky.
Savvy packaged goods manufacturers looking to keep these talented professionals might do well to open the lines of communication among engineers, management, marketing, purchasing and other key packaging departments.
A proactive approach might shed light on various situations and help prevent cracks in their packaging foundation.
Companies in this article