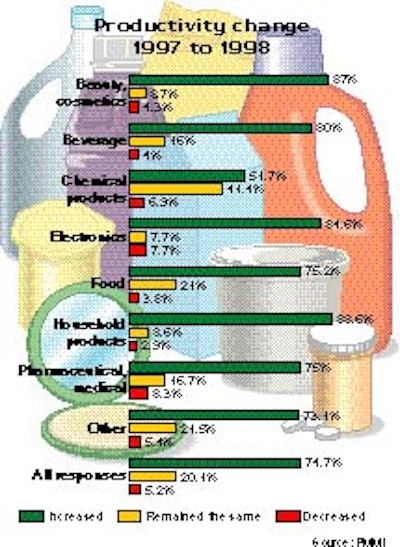 The primary conclusion is that packaging lines at a wide variety of U.S. companies continue to log steady if not remarkable increases. The study was conducted for PMMI by Industry Insights, Inc. (Columbus, OH), and was based on 407 random responses. The research company estimates the figures have a ± 4.9% margin of error at a 95% confidence level. Rather than just tabulating responses, the research company performed data analysis and evaluation to ensure consistency in the responses.
Overall, three-quarters of all responses reported a gain in packaging productivity in '98 over '97. Another 20% said productivity remained the same. Of those with increases, 41% said the gains were less than 10%, while 45% claimed the increases to be in the 10% to 20% range. On the other side of the coin, of the small number who reported declines, 60% said the percentage was less than 10%; another 25% said the decline was between 10% and 20%.
For background purposes, the food business accounted for 27% of responses, while pharmaceutical/medical represented 15%. Household products made up 9% of the responses, while chemical (8%), beverage (7%) and beauty/cosmetics (6%) were not far behind. It's important to note that a full 25% made up the "other" category.
In terms of size, 19% of responses came from companies with fewer than 100 employees, while 16% had more than 1ꯠ employees. Nearly half (49%) came from companies with 100 to 500 employees. In a similar measurement, 51% had 10 or fewer production lines, while 14% reported 36 or more production lines.
Uniform overall gains
In general, one in every five respondents said that productivity had remained the same, '98 from '97. Of the seven industries (and the "other" catch-all group), gains in packaging productivity were reported by from 88.6% of household products makers to just 51.7% of makers of chemical products (see Chart 1). The average business showed gains in nearly three of four responses, with just over 5% reporting declines.
The pharmaceutical/medical segment logged more responses claiming a loss in productivity at 8.3%. Still, three of four of that segment's respondents reported gains in productivity.
It's interesting to note the respondents who claimed their companies had achieved major productivity increases in the last year. In total, more than 14% of all survey respondents reporting gains in productivity claimed the increases were greater than 20%. In fact, 3.5% of these survey participants reported gains of 35% or more.
These big gainers came mostly from either the food, beverage or beauty/cosmetics segments. Nearly 4% of those in the food industry claimed increases of 35% or more, while both the beverage and beauty businesses also had high percentage gainers, albeit with far fewer participants. The small number of responses reporting productivity declines preclude any analysis.
Positives and negatives
PMMI's elaborate questionnaire gleaned additional information in a variety of areas that won't be reported here. However, to follow up on the productivity numbers, it asked participants to identify those factors most contributing to either increases or declines in productivity, ranking their importance on a 1 to 5 scale.
As could be expected, equipment replacement (see Chart 2) had one of the highest scores as contributing to increases in productivity at 73.2% of all surveys. Interestingly, respondents in the electronics packaging area said that equipment replacement had both the most positive (84.6%) and highest negative (7.7%) influences, although the number of responses was not large. The only other industry reporting a high negative for equipment was the pharmaceutical/medical area, at 5.1%. And this segment had, after food, the second-highest number of respondents.
Another positive area of concern to both product packagers and to the companies that make machines for them is plant training (see Chart 3). The questionnaire defined this as line training for machine operators and maintenance personnel. More than three-quarters of respondents reported that they viewed training as a positive. Just 2.6% said it had a negative effect on productivity. Much like the influence of equipment replacement, one segment, beverage packaging, reported both the greatest positive (88.5%) and the largest negative (7.7%) effect. This dichotomy may be caused by the relatively low number of participants (26).
To underscore the importance of operator and maintenance training to productivity, the three segments that said training or human factors produced no negative impact on productivity--respondents in food, household products and beauty/cosmetics--combined to represent about 42% of all responses to the question.
Mixed pictures
Some other factors listed in the questionnaires resulted in mixed responses. When Packaging World editors talk with plant engineers about the effect of new packages or new designs on their packaging line performance, the response is often negative, as they grumble about having to produce a new package "that came down from marketing." It may be that the survey respondents included many companies that change package designs to improve line performance, not just to satisfy a perceived marketing need.
At least that's one conclusion from the survey results (see Chart 4). Overall, this survey reports that new package designs had a positive effect on productivity, in fact nearly 2:1 over those saying it had a negative impact. As expected, the most frequent answer was that new packages had no appreciable effect on productivity.
Electronics manufacturers found the greatest benefits in new package designs. They reported positive effects 63.7% of the time, compared to 18.2% who said package design changes adversely affected line productivity. Looking more closely, 27.3% of the electronics respondents said that new packages had a "very positive" effect, while none of the respondents from electronics reported a "very negative" answer.
For the largest industry studied, the food business, more than half said new pack designs had no effect on productivity, but nearly a third reported a positive impact.
Certainly it's no surprise that new packages most adversely affected the beverage producers. Fewer than a quarter of these respondents said that new pack designs enhanced their productivity, while 77% said the result was neutral or negative.
Product variations trouble
While new package designs showed both positives and negatives, the need to produce more product variations showed no balance (see Chart 5). Although a few industries saw both positives and negatives to more product variations, overall this factor had a negative effect on productivity with a ratio of about 2:1.
Just like new package designs, virtually any product or package change is a problem for high-volume beverage packagers. Only 19.2% of beverage industry respondents believed product variations created a positive impact on productivity, while nearly two-thirds said it had adversely affected productivity. In the beauty/cosmetics segment, packaging operations were relatively unfazed by product variations. About a third of these respondents answered either positive, neutral or negative. In the electronics business, only 7.7% of respondents claimed more product variations enhanced productivity with their plants.
As a way for readers to compare their experiences with those reported in the PMMI Productivity Trends Indicator survey, PW has compiled charts by business segment that show the highest positive and negative responses about the factors that affect productivity (see Charts 6 through 12). In these, we show only the three or four answers that respondents said had the greatest impact on packaging productivity, both positively and negatively.
As mentioned earlier, the survey covered many issues not reported on here. For example, the survey asked about how the respondents measured line performance and determined productivity. It also explored the creation of partnerships of manufacturers with suppliers and how companies measure the effectiveness of these relationships. Next month, however, PW will present in detail the survey results on questions of training and education of packaging employees.
Complete copies of the 1999 PMMI Packaging Productivity Trends Indicator survey are available for $150.
Companies in this article