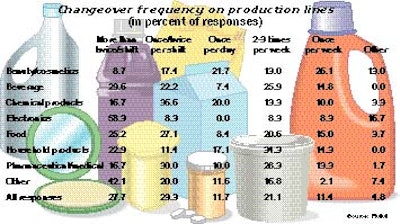 More than 90% of the Produc-tivity Trends Indicator survey respondents said that changeover time was at least somewhat significant to the productivity of their operations. In fact, just 5% of all respondents said that changeover time was an insignificant factor in their plant's productivity.
Fewer than 20% of all re-spondents report their lines run three or fewer products or size variations, and 58% say the number is more than five. Only 1% of respondents reported a line dedicated to a single product or size. To relate this to change-over, the survey asked about the frequency of changeover on lines (see Table A).
Of all responses, 27.7% of participants say their lines change products or sizes more than twice per shift. Another 23.3% say their lines experience changeover an average of once or twice per shift. Meanwhile, another 32.5% say changeover averages from once to three times per week.
These numbers vary widely from industry to industry as the table shows. For example, chemical makers and pharmaceutical and medical packagers all say that at least a third of their lines have changeover once or twice each shift. Few packagers of electronics report that; most electronics participants say changeover occurs more than twice each shift. In contrast, beverage packers change less often. Some 40.7% of beverage respondents say their lines experience changeover three times per week or less.
In the same way, the time required to change over a packaging line also varies (see Table B). Some 58.3% of electronics respondents said changeover took 30 minutes or less. Among pharmaceutical/medical companies, only 10% could say that. In that industry, respondents said that 44.9% of their lines took two hours or more to change over. Much the same was true in the beauty/cosmetics area. Two-hour changeover or longer was the answer for 54.5% of the respondents from this group. Not a single one of the electronics industry respondents said that changeover would take two hours or longer.
Among the larger industries, 53.7% of the food industry responses claimed changeover in an hour or less. One hour or less was also claimed by 62.8% of participants from the household products industry.
Finally, the survey asked respondents to average the number of workers who were involved in changing over packaging lines. While nearly eight of 10 responses say three or fewer workers are needed for a line changeover, the answers are not consistent across all business segments.
For example, in electronics packaging, 91.7% of lines require three or fewer employees to complete a changeover. In contrast, only 59.3% of beverage respondents indicate three or fewer workers are required. Thus, 40.7% of the beverage lines require four or more workers, and 7.4% say seven or more employees are needed to affect a changeover. Just 7.4% of beverage respondents claim a single worker can handle a line change.
In the largest category, food manufacturers, 11.4% use one worker, while 6.7% report that seven or more workers are needed to handle a line change.
The concern with changeover seems warranted because some 67% of all respondents say that the number of short- or limited-run products had increased during the last year in their plants. Only 11% report a decline in short runs.