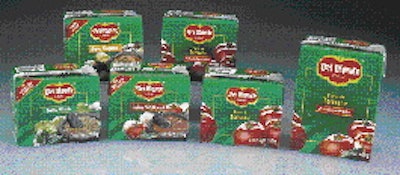 To launch the new line, the company created a partnership with SIG Combibloc Mexico, a subsidiary of SIG Combibloc (Columbus, OH). A complete processing/packaging line was installed at PDM's plant at Irapuato, Guanajuato, Mexico. The heart of the new line is the Model CF606AF packaging system.
The ability to sterilize and fill particulates is the key reason PDM was able to introduce salsas in aseptic cartons holding 210 g, says Tere Lozano, marketing director for PDM.
"The fact that we could aseptically pack small chunks permitted us to use this package for our salsa products. Our salsas have chunks of tomatoes and peppers, and this is something other aseptic carton systems couldn't handle, at least here in Mexico," says Lozano. "This is one of the primary reasons why no other company launched a salsa here. We are among the first companies in Mexico to use Combibloc equipment."
While the ability to aseptically pack particulates made the Combibloc system appealing for salsas, the tomato puree products in both 210- and 360-g sizes had a different need.
The tomato puree category is very price-driven, Lozano says. "So we needed a package that would allow us to compete at economical prices."
Along with being cost-competitive, the PDM pack adds easy-opening convenience. "Yes, the laser-cut carton finish makes our cartons very easy to open, much easier than our competitors'. With our cartons, the consumer doesn't need scissors or any other implement to open the package. It can be easily torn open by hand," Lozano points out.
"Consumers have told us they really like the easy-opening feature," she adds. "We tested our package versus competitive packages with consumers, and the easy-opening feature proved a strong benefit."
Partial can replacer
PDM's plant is primarily a cannery. The purees and salsas have been offered in cans for several years.
"Here in Mexico, consumers really like the aseptic carton presentation versus cans," says Lozano. But PDM will continue to pack the same products in cans, too. So this gives PDM an advantage. "We're not switching 100 percent," she says. "There's a market for cans, and there's a market for aseptic cartons.
"We're going to keep both presentations, at least for the puree. For the salsa, we'll probably convert from cans to cartons, but we want to do it gradually. We'll begin to convert to cartons, and our forecast is that in about two years, we'll be eliminating our steel cans."
Strong graphics
PDM has received a positive response from both consumers and customers, PDM's marketing director reports. PDM's customers are both wholesalers and supermarkets. In-store advertising and consumer promotion is accompanying the product/package introductions.
Lozano credits PDM's label design with helping its selling effort. "Our graphics are superior to those of our competitors' packages. That helps us gain trial for our brand. Of course, our Del Monte brand is very strong in Mexico because it's the leader in many categories."
The company retained designer Ilus- tragraphics (Mexico City, Mexico), which developed six-color graphics that are printed gravure by SIG Combibloc. "The design really positions us as the highest-quality brand for these products," Lozano says.
"This type of packaging is brand new for us," she concludes. "As a matter of fact, we're planning to launch more products in this type of package by the end of the year."
Companies in this article