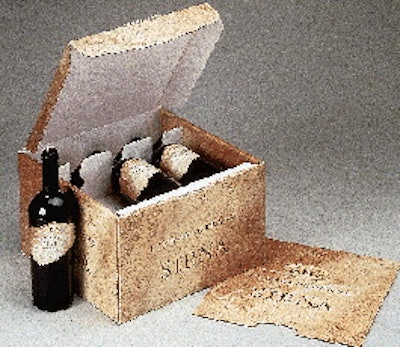 This past May, New York City hosted the 39th annual Clio Awards International Advertising Festival & Creative Conference. Recognizing creative excellence in advertising, the famed awards program is divided into two categories: Television, Radio and Web Site Awards, and Print, Poster & Package Design.
Among this year's outstanding winners in package design was packaging's own TAPPI (The Technical Assn. of the Paper and Pulp Industry). The Western Div. of TAPPI wanted to develop cartons to hold various golf-related gifts to be presented to each participant of Western TAPPI's 1997 golf tournament. The package won the Silver award in the category of Entertainment Promotion Packaging.
Designed and produced by Fleetwood Container and Display (Los Angeles, CA), the carton is made of 275#-test E/F-flute kraft double-wall corrugated that's minus one liner so that the F-flute medium is exposed. This exposed corrugated medium becomes the outside of the carton. The Fleetwood name is flexo-printed in black. "TAPPI" and "1997" are die-cut on each face of the seven-sided carton, which measures 12" W x 7" D x 9.5" H. A total of 12 cartons sit in a hexagonal corrugated tray, made of E-flute kraft and also produced by Fleetwood.
A total of 204 containers and 17 trays were produced. Fleetwood Container donated all time, materials and services for the project, says Frank Greene, past chairman of Western TAPPI.
Bronze winner
Ferrari-Carano Siena took the Bronze Clio award in the Packaging-Beverages/Alcoholic category for the paperboard case sold to restaurants and, at the retail level, as a gift pack. The container holds six 750-mL bottles of Siena wine, one of Ferrari-Carano's three lines of wine.
Designed to replace a wooden carton etched with the Siena name, the container was introduced last year nationally, says Kristina van Loben Sels, associate wine maker at the Healdsburg, CA, winery. Graphics closely replicate the front label of Siena bottles.
Fleetwood designed the 200#-test, B-flute white, corrugated container, measuring 13.25" W x 12.5" D x 8.125" H. Graphics are flexo-printed in six colors, plus a varnish. The interior of the carton, as well as two inserts that provide bottle stability, are printed in pink, plus a varnish. This is said to create a glowing effect upon opening.
The corrugated case costs about 1/3 the price of its wooden predecessor, says van Loben Sels. Suggested retail price for the case is $168, or $28 per bottle.
Companies in this article