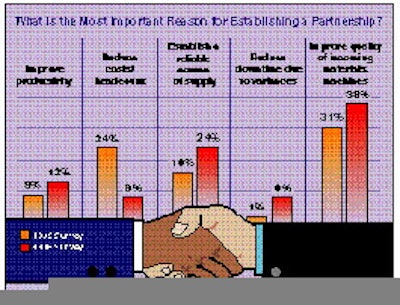 More than ever, packagers are linking up with machinery and material suppliers to create special relationships that go beyond the traditional buy/sell paradigm. So packagers say in the latest packaging productivity survey conducted by the Packaging Machinery Manufacturers Institute (Arlington, VA).
In a survey conducted late last year, 74% of respondents reported establishing special relationships or partnerships with material or container suppliers (Chart 1). That's substantially higher than the 58% reported a year earlier. Almost half of respondents reported establishing partnerships with machinery manufacturers. (Direct comparisons with the previous year's survey-which registered 3.7% for machinery builder partnerships-can't be made because the question and choices were worded differently.)
More evidence of partnerships? In the previous year's survey, almost 40% of respondents said they established no partnerships. In the most recent survey, that number was down to 11%.
Participation in partnerships were roughly similar across most industries, except for the beverage industry. There, 94% of respondents established special relationships with materials/ container suppliers, and 68% with equipment suppliers, the highest percentages for any industry identified in the survey.
As one might expect, larger companies were more likely to establish partnerships with suppliers than smaller companies, with 21% of respondents from the smallest companies (fewer than 100 employees) reporting no partnerships compared to only 7% of the very largest companies (over 2ꯠ employees).
Reasons to partner
The two most important reasons cited for establishing vendor relationships-to improve the quality of incoming materials and machines and to establish a reliable source of supply-increased sizeably from the earlier year's survey
(Chart 2). Interestingly, cost reduction declined in importance compared to last year, mentioned by 8% of respondents, compared to 24% in the previous survey.
When tabulated by industry, 68% of respondents in the beauty and cosmetics industry established partnerships with an eye toward improving the incoming quality of materials and machines, quite a bit above the 38% total of all respondents. There was no discernable pattern to the responses when evaluated by company size.
The most important yardstick for measuring the success of these relationships by packagers (Chart 3) is by gauging the amount of scrap and rejects (27%). That criterion was used most often by the beauty and cosmetics industry (42%), less often in food (33%) and least among beverage producers (13%). The beverage industry most often monitored production (36%) as a means of measuring the effectiveness of vendor relationships.
Just over 92% of respondents said they shared product design information with suppliers, slightly more than last year (86%). In the beverage and beauty/cosmetics industries, 100% of respondents said they shared product design information. So did 93% of respondents in the food industry and 90% in pharmaceutical.
Establishing partnerships was just one of many areas researched in this year's PMMI Productivity Survey. To see how packagers rated training and education of plant personnel, see Packaging World, June '97, p. 75. The complete Trends Indicator survey is available for $750 ($375 for PMMImembers) through PMMI's education center.
Companies in this article