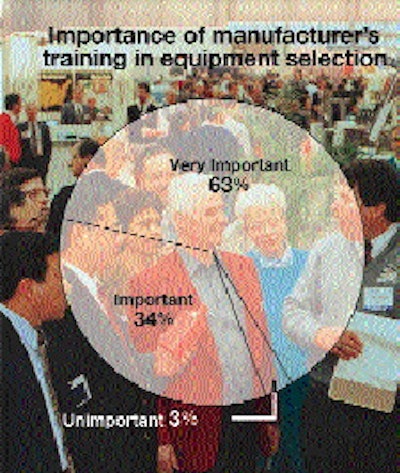 Flexibility and versatility are the primary packaging machinery features that attendees of Pack Expo 96 will be demanding, but they certainly aren't the only considerations. In fact, training for packaging machinery operators and mechanics has become an increasingly important factor in machine selection.
So says an exclusive survey of advance registrants to Pack Expo 96, as compiled by Frambach & Co. (Elm Grove, WI), a research consultancy retained by Packaging World. Pack Expo 96 is sponsored by the Packaging Machinery Manufacturers Institute, and will be held at Chicago's McCormick Place, Nov. 17 to 21.
In this second report from the survey (for Part One, see Packaging World, Oct. '96, p. 106), packagers from a variety of industries and areas explained that training for machine operation and maintenance has become far more important than ever before.
One senior packaging development engineer for a major national producer of beauty products confirmed his company is looking for equipment that requires less maintenance and fewer adjustments for operators.
The special projects coordinator for an automotive aftermarket manufacturer says his company is looking for equipment that is "mechanically-friendly." His company seeks machinery that is "easier to maintain. That's where we have our difficulties."
The superintendent at another snack baker urges more intensified training. "We rely on the machinery manufacturers to help with installation and the initial training of operators."
Statistically, the survey of Pack Expo 96 attendees strongly agrees with the snack baker (Chart 1). Some 62% of the respondents call manufacturer's training very important to the process of machinery selection. Another 34% refers to training as important, and only 3% say that OEM training isn't an important factor in the selection criteria for packaging machinery.
The packaging manager for a major national soft drink company was among those calling training very important. "On a scale of one to ten, give it a ten," she said.
Some see it differently-and for a variety of reasons. The senior development engineer for a major pharmaceutical manufacturer says manufacturer training is totally unimportant. "We buy prototype equipment that we help design," he says. "So we're best able to design the training for that type of equipment."
The chairman of an industrial product manufacturer also minimizes the importance of OEM training, but for a decidedly different reason. "The type of equipment we run is not that sophisticated," he says. "So we don't have a need for a lot of training."
More operator training
A small cosmetics packager agrees with that industrial manufacturer. "We have no formal training. We're quite small, so everyone had to learn all the equipment," says the company president. However, a resounding 87% of survey respondents disagree (Chart 2). That's the percentage who say they have in-house training programs for machinery operators, compared to 13% who said they don't. The survey didn't quantify the training programs, so some may be modest while others are far more comprehensive.
The vice president of operations for a juice bottler says his company is probably right in the middle. "We train both operators and mechanics, but usually only when we bring in new equipment," he reports. Operator training at a small food company is more extensive than intensive. "We have about 40 employees in the packaging room, but a large percentage are part-timers," reports the packaging manager there.
The production manager for a coffee packer says operator training by vendors is extremely important. "We've been disappointed in the past, when we buy a machine and then we're left in the cold for training."
Mechanics need it too
That same production manager stresses that his company relies on the machinery manufacturer for training of mechanics. "That's a major factor in our selection."
The president of a small cosmetics producer recalls some failures and makes a suggestion. "I've wasted too much time with manufacturers that don't provide sufficient training. The support could be so much better, even with a well-prepared video," he says.
The president of a small candy producer doesn't expect much training for mechanics. "We rely on the manufacturers' technicians to help us solve the problems ourselves. Or we call them to come in."
Still, in the overall survey, eight of 10 participants say their companies have training programs for packaging mechanics, while 20% say their firms don't train mechanics (Chart 3). One of those reporting no program to train mechanics is the packaging designer for an automotive products maker. She explains that her company relies exclusively on manufacturers to train both mechanics and operators.
At the other extreme, the engineering manager for a large wholesale bakery says that training of operators and mechanics is one of the responsibilities of the company's project engineers. "That's why we don't use outside consultants."
Consulting integrators
The PW survey also inquired whether the attendees' companies use consulting line integrators to help them build more efficient packaging lines (Chart 4). Although more than three of four respondents said "no," many commented that they have the expertise in-house.
Or their strategy is to use a machinery supplier as the prime contractor. An operations executive for a major snack baker, says, "The lesson I've learned is that you need to have the major equipment providers serve as the system integrators. Otherwise, everyone installs the equipment and leaves."
Others simply don't find a need for outside consultants. A major pharmaceutical manufacturer's packaging development engineer says his firm doesn't use outside integrators. "We work [only] with machinery manufacturers that provide that service."
Finally, the president of a small pharmaceutical maker may have been winking when he said: "For installation, we use a consultant who used to work for one of the companies that we regularly buy from."
Whatever the strategy for either training or consultants, none of these executives can afford to miss Pack Expo 96.
Companies in this article