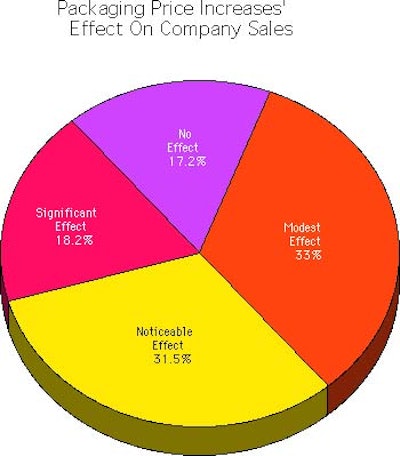 In this first part of our statistical report on how purchasers cope with higher prices for packaging, PW examines the materials most affected, and how purchasing agents try to deal with increases.
However, as the two accompanying charts show, the cost increases for packaging have had a major effect on product sales. And not surprisingly, a very negative effect.
In this study of more than 200 packaging purchasing executives, roughly half say that packaging price increases will have a minimal effect on their company sales (Chart A). The other half, however, says it will have an effect that can be measured from "noticeable" to "significant" on their company sales. These purchasing people may be "crepe hangers," but only 7.5% say the effect will be positive; some 92.5% of respondents are certain the effect will be negative (Chart B).
The results might be different in different times. In most years, one or two materials might find supplies tight and prices up. In late spring '95, most all purchasing agents contacted in the PW survey said that multiple materials are showing price increases. In fact, many respondents checked three or more materials as showing price increases they judged to be "significant."
Positive or negative, packaging cost increases affect product prices. If there was a doubt, this study validates that point.
In this first part of PW's survey results, we look at some of the normal reactions to price increases: changing specifications and substituting new vendors. Next month, we'll focus more on how these manufacturers react to price increases, by changes they make to the product, the size of the product and the benefits they enhance for their markets.