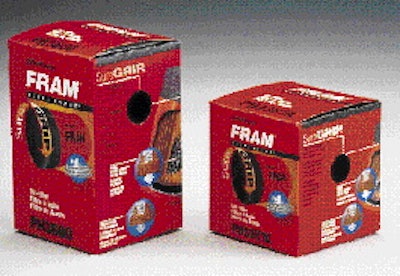 Twenty-one winners were awarded Golden Cylinder Awards in the 30th annual awards competition sponsored by the Gravure Assn. of America. Six of those were in packaging-related categories including the three shown here.
The winner for the Inks & Substrates category was Shorewood Packaging Corp. (New York, NY) for its work on the 12-count carton for Wilson's Staff Titanium Double Ti golf balls.
These innovative new balls contain titanium, as reflected by the metallic-looking carton. Shorewood used a combination of gravure and offset printing on a proprietary narrow-web system. The paperboard cartons are printed in 10 colors on 18-pt solid bleached sulfate board.
Jeff Christensen, golf ball marketing manager at Chicago-based Wilson, says the response to the package and the product has been good. "The packaging stands completely apart from the other golf balls on the market," says Christensen. "The golf ball was launched in 1996, and during 1997, it was the number-one selling new golf ball."
The balls are available nationally and retail for $35 to $48 per dozen.
Technical innovation
Winning for its label for Vancol Beverage Group's Tommyknocker drinks was Avery Dennision (Framingham, MA). Vancol wanted to create a bottle that would represent the history of the Tommyknocker product. "We're taking an ordinary stock amber beer bottle and using Avery's label concept to create a little work of art," says John Ravnik, special project manager at Denver-based Vancol. The heat-transfer label shows a little man, known as a Tommyknocker, that purportedly showed miners the path to gold in the early Colorado mining days.
The label, which is reverse-gravure-printed in seven colors, is on a proprietary release liner. Introduced in mid-1998, the products are slowly rolling out nationally. The beverages are available in Root Beer, Strawberry Creme and Almond Creme flavors. They're sold individually and in four-packs.
Ravnik is happy with the label Avery Dennision supplied. "It's been well-received."
Paperboard winners
One of the two winners in the paperboard category represents the efforts of four companies. All four had a hand in converting the Sure Grip Fram oil filter package for Elyria, OH-based AlliedSignal. CNW Inc. (Cincinnati, OH) engraved the cylinders. The C.W. Zumbiel Co. (Cincinnati, OH) printed the containers. Sun Chemical Corp. (Fort Lee, NJ) furnished the ink. Smurfit-Stone Container (Chicago, IL) manufactured the paperboard.
The paperboard containers were orginally printed offset. AlliedSignal changed to gravure printing because it was more economical, according to Geoffry Skog, graphic services supervisor at Allied. Skog wouldn't quantify the printing savings, and he said the retail price hasn't changed.
The filters come in seven different sizes and retail for $3 to $4. They are printed via four-color process with two spot colors on 20-pt clay-coated newsback.
Companies in this article