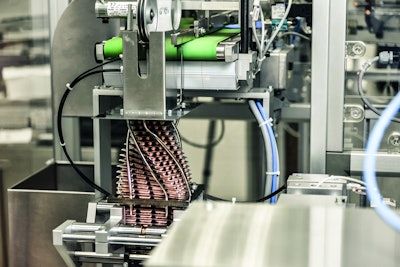 PADMA AG is a Swiss pharmaceutical company specializing in the manufacture of Tibetan medicines. The firm uses Romaco Noack and Romaco Promatic equipment to pack its multi-component herbal capsules in blisters and folding cartons. All processes are GMP (Good Manufacturing Practices)-compliant.
Raw materials are delivered to PADMA's headquarters in Wetzikon in powder form and then processed further in manufacturing campaigns. In the first step, the formula is mixed homogeneously and filled into capsules. The finished product is mainly packed in blisters with 20 capsules each; four-capsule blisters are also produced as samples. The products destined for sale can be supplied in packs of 1, 2, 3, 5, 6, 10 or 27. Considerable flexibility is called for to pack the blisters in seven different box sizes.
To meet these complex requirements and satisfy the steady growth in demand, PADMA's management decided to install a high-tech, Romaco-built line that includes primary, secondary and final packaging units.
A Noack 921 blister machine with a Promatic P91L intermittent-motion cartoner and a Promatic PAK100 case packer were chosen to master this challenge. The line was configured in a U-shape owing to the limited space available.
"Romaco went to great pains during the planning phase to accommodate our very specific needs and convinced us with innovative solution strategies," says Dr.Herbert Schwabl, PADMA Chairman of the Board. The Romaco blister line was commissioned at the PADMA facility in late 2014. Approximately two million capsules are processed per batch.
Flexible feeding
The blister line is designed to handle diverse stack heights. The cartoner was built with two separate feed units for this reason. The blisters for the size 27 pack are fed via a special bypass with a turnover starwheel, which turns the stacks vertically 90 degrees. They are then placed in the cartoner's bucket chain standing up on edge. A counter-slide is used to support the large stacks as they are fed into the open boxes. The process produces an output of eight size 27 packs/min.
For packs with 10 blisters or less, the standard feed unit is selected by means of a vertical twist, which turns the blisters horizontally 90 degrees and places them in the stacking magazine, where they are counted and conveyed directly to the cartoner via the bucket chain. In this configuration, the line has a maximum output of 400 sample blisters or 300 20-capsule blisters and 75 boxes/min.
The feed unit is determined by the format selected on the cartoner's HMI panel plus a mechanical switch at the transfer conveyor between the blister machine and the cartoner. The blisters themselves are manufactured in a three-lane rotary sealing and die-cutting process. Foil waste is thereby considerably reduced.
Two people are normally charged with operating the blister line, handling format changes and cleaning the machine. PADMA ships its products in cases, which is why a case packer is attached to the cartoner. The Romaco Promatic PAK100 is a semi-automatic machine: the folding cartons are grouped, stacked and inserted automatically while the only manual steps are case erection, feeding and closing.
A successful mix
The formulas for Tibetan medicines have been handed down over thousands of years. Their pharmacological action is based on the secondary substances found in all plants. These so-called phytochemicals safeguard against ultraviolet light or vermin and are additionally used in reproduction. The herbal substances have this same special effect on humans. Tibetan medicines adhere to the multi-component principle, with up to 30 different dried or powdered plants being processed in each formula. These complex mixtures of substances activate the body's own immune system and are used to treat diseases such as arteriosclerosis, digestive and sleep disorders, or chronic inflammations.
Tibetan medicine often complements conventional, or "academic" medicine. Representatives of integrative medicine claim that the highly specific action of synthetic drugs is more noticeable if the body is holistically stimulated by natural remedies.
"Many Swiss patients who are prescribed a PADMA medication by their GP are not even aware that it's based on a Tibetan formula," Schwabl notes. "It's the positive effect that matters—where the formula comes from is irrelevant to the therapy's success."
Tradition and modernity
PADMA sources its raw materials from all over the world. Some of them are grown in specialized regions, for example India, Nepal, Switzerland and Germany. Geographical origin is not a selection criterion, however; top of the list is premium quality. European medicinal plants such as calendula flowers, Iceland moss or columbine are just as likely to be preferred as Nepalese mombin fruit, aloe extract or cloves.
All production processes comply strictly with GMP and GACP (Good Agricultural and Collection Practices) and the European Pharmacopoeia. When it comes to medicinal plants, these regulations also cover inspections of the seeds, cultivation, harvesting and drying. The identity of all herbal raw materials is unequivocally established in the laboratory before they are processed. Also, contamination with pesticides, aflatoxins, heavy metals or microorganisms must be ruled out.
Local support
PADMA was supported and assisted during the installation and commissioning phase of the new blister line by Trimaco, Romaco's Swiss agent. "The support we received from Trimaco was—and still is—vital to a small company like us because the machines have to provide very high flexibility," says Schwabl. "Trimaco and Romaco are competent partners who can be trusted to help us at any time with user training or technical support."
Historical perspective
Tibetan medicine originally spread to Switzerland via Russia. In 1850, Tibetan physician Sul Tim Badma accepted the Tsar's invitation to his palace in St.Petersburg. His descendants left the Tsar's court during the Russian Revolution and set up a practice in Poland. The first contact with Switzerland was established in the mid-fifties. It was then that the decision was taken to manufacture Tibetan medicines in accordance with modern, European pharmaceutical standards.
PADMA's portfolio currently comprises a range of herbal preparations, which can be purchased from retailers as pharmaceuticals or dietary supplements. About 60% of these products are marketed in Switzerland and two are reimbursed under the statutory health insurance scheme. PADMA also serves several other European markets, including Austria, Denmark, Hungary and Poland.
And if the Dalai Lama pays another visit to PADMA at some time in the future, the official photographs will no longer show him in front of the previous Noack DPN760, but against the backdrop of a fully automatic blister line made by Romaco. The Tibetan formulas used by PADMA may have been handed down over the millennia, but the production process is definitely 21st century.
Editor's note: This edited article was written by Markus Frey, Product Manager, Romaco Noack
Companies in this article