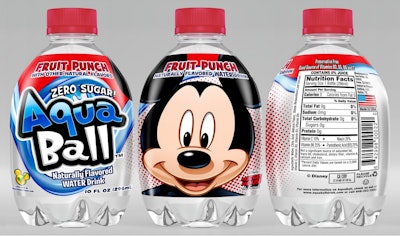 A package's shape can provide competitive differentiation. A great example: the package for True Drinks Holdings' AquaBall™ flavored water beverages, which were introduced in 2012. The package consisted of a globe-shaped PET bottle decorated with a gorgeous shrink-sleeve film label printed with licensed Disney and Marvel cartoon characters.
In May, the Irvine, CA-based company announced it was transitioning out of the globe-shaped bottle into a narrower bottle that fits into cupholders and is easier for small hands to hold, with a more secure, easier-to-open closure.
The new package continues to deliver the same dynamic kid appeal as the original globe-shaped version. The product itself resonates with health-conscious parents given the four flavored waters offer a source of Vitamins B6, B12, B3 and C, contain no high-fructose corn syrup, no calories and no artificial colors or flavors.
As True Drinks' website says, the company "recognizes that childhood obesity and juvenile diabetes have become epidemics among our nation's youth."
Feedback from Moms served as the impetus behind the package change, according to Kevin Sherman, True Drinks CEO. Beyond the new bottle shape, True Drinks also announced that AquaBall was now also preservative-free.
"Innovation is what we strive for as a company," says Sherman. "We have always wanted to remove the preservatives from AquaBall, and our partnership with Niagara Bottling has enabled us to do just that. The removal of preservatives clearly establishes AquaBall as the healthiest beverage in the category."
Niagara sources the 12-oz PET bottles, the high-density polyethylene closure, and the 40-micron shrink labels, printed on a 10-color flexo press. The full-body shrink-wrap labels now provide consumers an increased ability to see the clear water inside and lend a larger brand presence for AquaBall, while maintaining the entertainment attraction from licensed Disney and Marvel characters.
Robert Van Boerum, True Drinks COO, explains, "There are some process challenges associated with ensuring the taste profile is consistent after the formula has been heated, which do not really exist for a cold-fill product.
"Mechanically the process has become simpler because more of the bottling process is integrated at Niagara, essentially eliminating a number of unnecessary steps. The bottles are hot-filled immediately after they have been blown, eliminating any need to carry an inventory of empty bottles, while also ensuring that the bottles are sterile when filled.
"Certainly the transition to hot fill required a significant change to our manufacturing process. We were fortunate to find a partner in Niagara that has the expertise and equipment to produce the hot-fill version of AquaBall in a new bottle, with a new cap, and a new label. Niagara's engineering team helped us develop the new bottle shape and then perfected the processes to produce the bottles and caps at their facility as part of the filling process. Niagara is easily the most vertically integrated partner we have ever worked with."
He says Niagara also introduced a new state-of-the-art labeling system from Sacmi that enables Niagara to sleeve its bottles at speeds easily exceeding 500/min, "which is mostly unheard of with traditional shrink-sleeve systems," he explains.
Shelf life for the new hot-fill AquaBall beverages remains at 12 months.
"The new formula is more efficient to produce and involves fewer ingredients since the preservatives are no longer required," says Van Boerum. "As an added bonus, the new bottle is narrower, allowing for twice the number of bottles per case as the old bottle while maintaining nearly the same footprint. By working with Niagara, we are able to capitalize on their many economies of scale, which has helped us to reduce costs and reduce the total number of different suppliers required to produce AquaBall."
Aubrye Foote, True Drinks Chief Mom, says, "Parents spoke, and we listened. The changes we made to AquaBall were a direct result of consumer feedback. There is nothing that compares to AquaBall with all 'zeros'—zero sugar, zero calories, zero artificial colors and flavors, and now zero preservatives. Our new logo, label, and website help to convey our message of healthy living for families. We hope to continue to engage parents as we strive to reduce sugar consumption for our kids."
Companies in this article