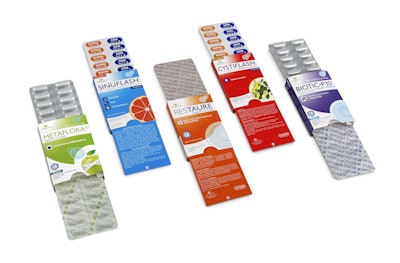 Aragan, a French laboratory that specializes in the use of natural ingredients, has selected Burgopak Healthcare & Technology to package its range of probiotics and dietary supplements.

Aragan has now launched five products that use Burgopak's packaging service. The products, Restaure, Sinuflash, Cystiflash, Biotic P10, and Métaflora, are a combination of probiotics and dietary supplements that promote healthy living. The products are available at pharmacies throughout France.

The packaging employs a patented design that presents the products using a sliding mechanism. The design's opening and closing functionality is an extension of Aragan's brand identity. It serves as an added value proposition for customers and provides a point of differentiation in a competitive market.

All of the brightly colored packs contain printed PVC/aluminum blisters, containing 10 or 20 capsules; in either double or single blister pack formats.

The design offers Aragan unique printable areas that provide additional space for visual design elements, helping to improve brand communication and deliver vital product information to the consumer. The packaging format can also be adapted to include an information leaflet for additional communication.

The compact design of the packaging provides maximum protection for the product while eliminating any unnecessary space, convenient for the modern consumer on the move. This reduction in packaging volume also optimizes retail shelf space and reduces shipping costs.

Aragan intends to use Burgopak's packaging services for further launches across its product portfolio. Nicolas Brodetsky, Managing Director at Aragan, says, "Initially, I was looking for a standard packaging system for our products. In the OTC market and food supplement market it is necessary to offer the patient/consumer a real benefit to attract their attention. Burgopak provided the answer to this and has proven to be a successful packaging solution for our range of products."
Companies in this article