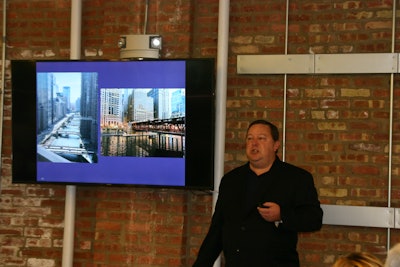 Achieving innovation in the crowded and competitive food and beverage industry is no easy feat. Barry Calpino, vice president of innovation at Conagra Brands, knows this first hand. The industry vet has spent his career developing innovative products and leading innovation initiatives at some of the largest food companies in the country, including the Kellogg Company, Kraft Foods and the Wm. Wrigley Jr. Company. At a recent breakfast event hosted by the Chicagoland Food & Beverage Network, Calpino shared his tips and insights on how food and beverage companies can create innovative products and a culture of innovation that will transform their organizations.
Calpino cut his teeth at SC Johnson, where he learned his first lesson in innovation: Be agile, nimble and first to market with trend-forward ideas. At SC Johnson, Calpino managed the Ziploc brand. When he discovered that competitor Glad was going to launch plastic food containers, he knew Ziploc had to develop its own food containers to stay competitive. But he had to convince the leadership team at SC Johnson that this would be a groundbreaking, game-changing category. He also had to persuade them to forgo the usual three-year development timeline in order to launch the product in five months and beat Glad to the marketplace. SC Johnson launched the Ziploc food containers just prior to Thanksgiving of 1998 — and it's still a successful product for the company today.
"I told everybody that if we don't do these containers, we're dead. Everybody thought I was completely out of mind. I fought and fought and fought. And at some point, everybody agreed to it," Calpino said. "If I hadn't done this, today somebody would be talking about how Glad killed Ziploc."
Compressing the timeframe for product development is a tactic Calpino uses today at Conagra. "A company committed to really being current and forward-thinking can't spend two years testing," he said. "By the time you launch, the trend is already gone."
Anticipating trends before they take hold is also key to innovation, according to Calpino. When he worked at Kellogg, he helped develop the Special K protein line, which incorporated protein into cereals and snacks. His supervisor believed that consumers would want protein-fortified products to accommodate their healthy lifestyles and weight loss. The company has since expanded this protein line with items such as bottled water, meal-replacement bars and cracker chips.
"I hope all of you have the chance to work with a boss who sees things before they happen," he said. "I had a boss at Kellogg who was absolutely convinced that protein was going to become this big mainstream concept in 2004. Everybody thought he was crazy."
To create truly innovative products as well as a culture of innovation at a company, Calpino recommended focusing on developing a few products rather than hundreds of product launches a year. That kind of prioritization brings energy, intention and creativity to the team developing the product and gets ingrained into the culture, Calpino said.
"As an innovator, part of what makes you tick is you always have tons of ideas, and you want to do a thousand things," Calpino said. "But there's power to doing less and doing it really well."
He employed this method at Kraft. When he first joined the company, Kraft launched about 150 products a year. He ended up reducing the number of new product launches significantly. "Our goal was to gain $100 milllion in new platforms instead of 150 new products," Calpino said. "We said, 'Let's talk about platforms, not products.'"
As a result, Kraft created eight products over a three-year period that won the Nielsen Breakthrough Innovation Awards, which honors new product launches that maintain sustained growth for at least two years. Those products included Gevalia premium coffee, Belvita breakfast biscuits, Lunchables Uploaded and Velveeta Cheesy Skillets.
For food and beverage companies based in Chicago, Calpino urged them to immerse themselves in the city's diverse and vibrant food culture. From iconic steakhouses to classic deep-dish pizza to inventive vegetarian cuisine to ethnic spins on fried chicken, Chicago's flourishing restaurant scene can provide inspiration for a food and beverage company's next great product. In addition, collaborate with the chefs and entrepreneurs behind these restaurants, Calpino said.
Conagra did just that when it purchased Frontera Foods from renowned chef Rick Bayless as part of its strategy to develop a brand portfolio filled with premium, higher quality products. The Frontera line includes skillet meals and frozen single-serve bowls.
"Chicago is filled with entrepreneurs and creative people who are doing amazing things with food. And for all of us in the room, that means opportunities," Calpino said. "It's full of people to work with and talk to. Partners who can inspire you. Partners to prototype with. Partners to show you new ways of thinking. Take advantage of it."
Companies in this article