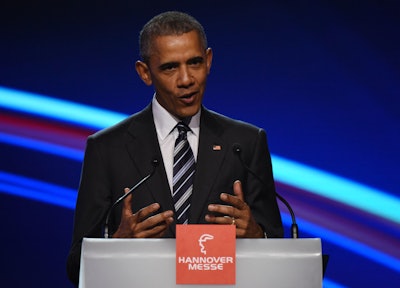 The launch of Hannover Messe 2016, the first time in the trade fair's history in which the U.S. appeared as the event's partner country, was highlighted by a visit from U.S. President Barack Obama—the first time a U.S. president has ever visited the event. Some 350 U.S. companies are participating in this year's Hannover Messe, including 200 small to medium-sized companies.
"To us, Hannover Messe is more than a traditional trade fair and Obama's participation is a reflection of how much we value the U.S./German relationship," said Penny Pritzker, U.S. Secretary of Commerce. "We build together, trade together and promote democracy around the world together," she said, before adding, "advanced manufacturing is the engine driving the future of both our economies."
Pritzker noted that, in addition to all the positive aspects of Industry 4.0 and digital manufacturing, it cannot be denied that such technological advances are disrupting industry worldwide. "It's changing the products in our pockets and homes and the nature of our work," she said, pointing out that the disruption cause by advanced manufacturing technologies will require the modernization of social policies that have been in place for decades. "To realize the full economic promise" of advanced manufacturing, "public policy needs to support free flow of information, products and services. The United States and Germany are well suited for this because of our shared core values."
Trade Agreement
At the center of the current U.S./German trade relationship is TTIP (Transatlantic Trade and Investment Partnership) — a trade agreement under development between the U.S and European Union to boost U.S. and EU economies via the removal or reduction of current barriers to trade and foreign investment between the two. TTIP is currently under development, but feelings about it are so strong that it drew more than 30,000 protestors to central Hannover the day before the Hannover Messe opening ceremony (see BBC coverage of the protests).
Making the case for TTIP, Pritzker said the "economic imperative is clear" and the agreement would "make exporting easier for companies of all sizes" because it would simplify regulations. She added that TTIP "incentivizes participating countries to pay a fair wage while also requiring that they ensure safety and follow environmental rules."
President Obama noted that "people are unsettled by globalization," despite evidence of job creation and wage growth. "Its easy to point to plant closings" due to competition with low-wage labor in other parts of the world as a cause for concern about globalization. "This drives distrust of agreements like TTIP," he said, "but it's indisputable that free global trade has made our economies stronger."
Acknowledging that trade agreement passage is always tougher in election years, despite surveys showing that "most people favor free trade," Obama said he does not "anticipate ratification of TTIP by the end of year," but does expect completion of the agreement by then. Once the TTIP agreement is complete, people will be able to see why "TTIP will be good for [U.S. and EU]."
Pointing out some of the leading examples of U.S./German cooperation around advanced manufacturing technologies, Ulrich Grillo, president of the German Federation of Industries, pointed to Tesla's use of KUKA robots and the development of electric cars by a "California company" using German car technology. The latter reference could be related to Apple's Project Titan work in Berlin or Google's custom driverless vehicle which uses equipment from Bosch, ZF Friederischshafen and Continental AG.
See the KUKA robots in action at Tesla's plant in the video below from Wired.
Companies in this article