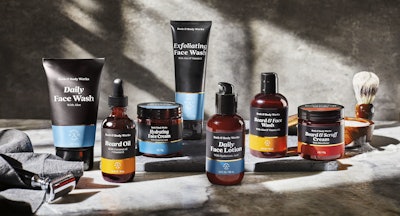 PLMA's 2023 Private Label Trade Show, the largest event for store brands in North America, held in mid-November, featured more nearly 1,700 exhibitors, showcasing the latest new products, flavors, packaging, ingredients, and services. Two-thousand-plus booths featured innovations in food, beverages, health and beauty, baby care, household goods, kitchenware, general merchandise, wine and spirits, pet care, refrigerated and frozen foods, and more.

According to PLMA, the increasing power of private brands was reflected in the significant increase in exhibitor participation at the show, with nearly 600 exhibitors new to expo this year. The association projects total U.S. store brand dollar sales for 2023 will reach $233 billion, an increase of about $4 billion over 2022, based on Circana data.
This data was also supported from a consumer perspective in the second installment of FMI – The Food Industry Association's "2023 Power of Private Brands" series, which surveyed grocery shoppers about their private brand shopping habits. According to the report, shoppers overwhelmingly reported that they are not only buying private brands more often, but that they are drawn to private brands by factors that go beyond the affordable price and overall value typically associated with store brands.
---
---
Ninety-six percent of grocery shoppers told FMI that they purchase store brands at least occasionally, with 46% purchasing private brands most or all of the time, and about 60% of shoppers say they are buying private brands much more or somewhat more in the past year, compared to just 26% for national brands.
In April, research from Circana indicated that store brands continued to outperform national brands in sales in Q1-23. Across all U.S. grocery channels, store brand dollar volume jumped 10.3%, nearly twice the gain of national brands (which grew 5.6%), compared to the same three-month period a year ago.
So what are store brand products offering to capture consumers' attention? Following the 2023 Private Label Trade Show, PLMA shared five trends that dominated the event:
1. Plant-Based Power: To elevate the plant-based dining experience, manufacturers are offering new options in ethnic meals as well as convenient handheld snacks: beefless Korean bulgogi, porkless carnitas, plant-based butter "chik'n" and alternative chicken fries, fish sticks, and mozzarella bites.
2. Spicy Snacks: The global shift to spicy food options has found its way into the snack aisle, which is heating up with new flavor combinations featuring jalapeno, chili, habanero, and other spicy peppers. Among the new products spotted were Jalapeno cheddar trail mix, habanero pork rinds, spicy jalapeno sweet potato chips, habanero nacho sweet potato chips, and pineapple habanero honey roast sesame sticks.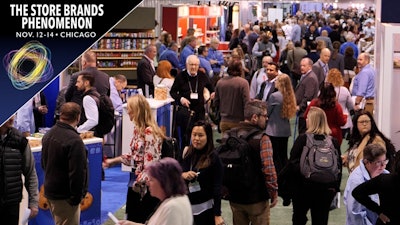 3. Specialized Skincare: Responding to growing concerns about appearance among the aging population, suppliers have expanded product lines of skincare products marketed for their moisturizing and anti-aging properties, specialized formulas, and ingredients. Featured at the show were serums with wrinkle-improving functions, hydrating facial cleansers with ceramides and hyaluronic acid, and glycolic acid cleansers.

4. Tropical Tastes: The popularity of plant-based diets coupled with increasing awareness about health benefits of coconut are driving growth of coconut-based baking food, snacks, and beverages. Among the products exhibited at the show were coconut water, coconut chips, coconut sugar, coconut pet treats, coconut flour, and ube-filled coconut rolls.

5. Green Parenting: Parents are increasingly concerned about the environmental impact of the baby products they buy. They are on the lookout for products made with biodegradable, compostable, and reusable materials, including bamboo diapers and baby wipes, and biodegradable wipes. PW