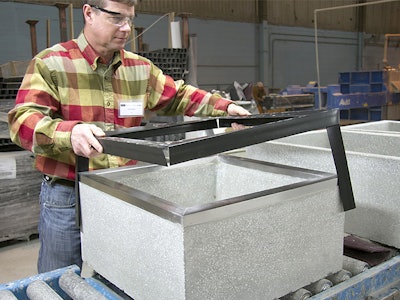 QuikCorner PalletTop uses Laminations' VBoard PalletTop and adds two rivet-hinged VBoard legs that swing out to protect the side corners. By placing one QuickCorner PalletTop on the bottom, extending the legs, and then placing another QuickCorner PalletTop with extended legs on the top, a sturdy protective crate is created that requires no taping or holding while stretch wrapping is applied.
The solution is available in patented laminated paperboard VBoard, moisture-resistant HydroShield VBoard, and weatherproof PVC-based Extruded VBoard.
With the riveted legs already attached, taping is eliminated because the legs stay in place during the stretch wrapping, improving protection and providing quick assembly.
QuikCorner PalletTop is also storable. Because the PalletTop sections are also riveted together, all four sections can be folded in on themselves, maximizing storage space. They are also much lighter and easier to use than wood.
Standard sizes for the VBoard used on the QuikCorner PalletTop are leg lengths of 1.75-in. x 1.75-in. and 2.5-in. x 2.5-in. with calipers of 0.06-, 0.09- and 0.12-in. Custom shapes can also be developed for large-volume applications.
Companies in this article