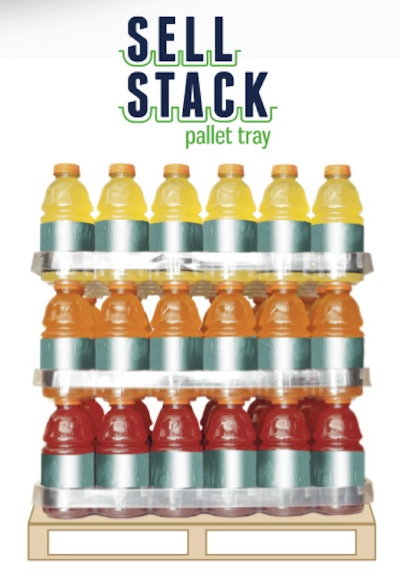 The Sell Stack is engineered and manufactured to create the correct fit and degree of support on a pallet. Trays are completely customizable to the most specific product needs. The company works closely with food and beverage manufacturers to design Sell Stack pallet trays with optimal balance of product quantities per pallet, load-bearing capabilities, and all other project factors. The Sell Stack is designed in full pallet (40- x48-in.), half pallet (24- x40-in.) and quarter pallet (20- x24-in.) sizes.
This waterproof, durable palletizing solution can be reused up to five times, and has even passed ISTA testing at Virginia Tech University's Center for Unit Load Design.
The Sell Stack is made from a combination of post-consumer and post-industrial recycled PET plastic to create a sustainable alternative to corrugated fiberboard. The Sell Stack pallet trays are accepted by any US recycling center and may also be returned directly to Innovative Plastech to be recycled into PET for future trays.
For more information, follow this link:   www.ThinkIPI.com
Companies in this article