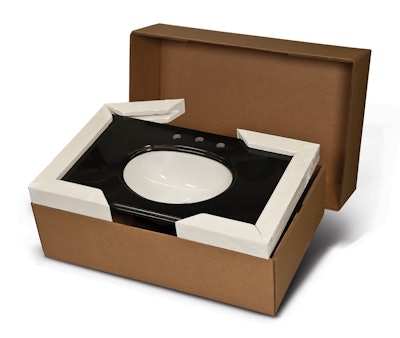 The system's reliability and speed help high-volume operations increase productivity, reduce inventory and material handling labor costs, and decrease damage rates.
The Instapak Tractor Mold system continuously creates L, V, and U channel cushions as well as low-profile shapes, and can be used with any of the 14 unique Instapak foam formulations.
Instapak foam is created when two components are mixed together and react to create high-quality polyurethane foam packaging. The Instapak Tractor Mold system feeds foam and film into a continuous mold tunnel where the foam rises and takes the shape of the finished cushion. As the cushions exit the system, they can be separated with a cutting mechanism and integrated into the packaging line or batched for later use. As with all Sealed Air protective packaging systems, this solution can be customized for each customer's specific needs.  
In addition to reducing operating costs, the Tractor Mold system reduces the need for the storage space associated with pre-fabricated materials. Instapak foam requires less cushioning material in each pack, reducing package size and weight. The reduction in damage increases the company's efforts to reduce its carbon footprint throughout a product's lifecycle by avoiding damaged product returns and disposal, and therefore assists customers in reducing their environmental impact as well.
Companies in this article